'Seinfeld' Actress Frances Bay Dead at 92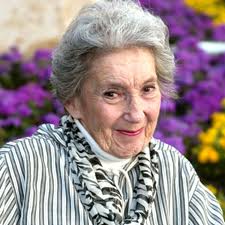 "Shut up you old bag," Jerry Seinfeld exclaimed as he fought with an old woman to get a marble rye—in what became the famous "marble rye episode" of the series. The old woman, played by Frances Bay, passed away Thursday according to her agent, Brian McCabe. She was 92.
When you hear "'Seinfeld' actor died" you then think about the long list of elderly people that participated in the show, wondering which one likely was the person. A couple of these actors, including one that played Seinfeld's father, have passed away in the past few years.
Bay had a career that started back in the 1930s working as a radio actress. After getting married and spending time as a housewife, Frances Bay went back into acting in the 70s and played such roles as Fonzie's Grandma Nussbaum on "Happy Days" and kindly older ladies in shows like "The Jefferson's," "The Dukes of Hazzard" and "Who's the Boss?"
Frances Bay had also acted in several David Lynch films, starting with "Blue Velvet."
Bay was the grandma character (of course) in Adam Sandler's 'Happy Gilmore.'
At the time of her death, she had not retired from acting. Hey, you're never too old to play a grandma!
According to The Patch, "Feisty" is the first word out of friends' mouths to describe Frances Bay, who continued to act even after her right leg, was amputated below the knee after she was struck by a car in Glendale in 2002.  That accident occurred less than a year after she lost her husband, businessman Charles "Chuck" Bay – her childhood sweetheart. She has said she knew she would marry him from the age of 9.
In 2008, Bay received a star on Canada's Walk of Fame in Toronto after family members launched an aggressive campaign.
I didn't even know Canada had a walk of fame, but then again most Americans just assume there is nothing in Canada except hockey players, maple syrup, and moose.
Canada, as well as all the other countries that have enjoyed her roles around the world, will miss her.
Frances Bay has no immediate survivors.
Related articles