2011 MTV Video Music Awards Show with No Host?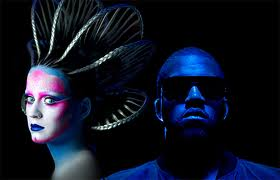 An awards show can have its own personality and vibe, depending on the host. What if an awards show were to have no host at all? Is this a good idea? Well at least it is—different.
The MTV Video Music Awards has been a program with many famous hosts over the years including Chris Rock, Ben Stiller, Bette Middler, and more recently, Russell Brand who received press for his off color remarks, unabashed sexuality, and blunt politics.
Why would producers decide to have no host at all? Perhaps in their planning meeting they just couldn't decide on a good fit.  According to Billboard, "It's going down to the wire. Hosting is such a unique element," executive producer Amy Doyle said. "We feel we got it right by putting new talent on the stage like Chelsea and Russell (Brand). We're really challenging ourselves to find the right person so that the show feels complete."
Either they got lazy, or it was too big of a challenge.
The MTV VMAs is known for spectacle, outrageous behavior, or at least something you don't see on typical evening programs. "You aren't going to see this level of performance elsewhere. I think the major hook to the VMAs is things like Pink doing 'Sober' live while flying around. We surround every performance with the best creative teams and these performers create memorable moments," Doyle said.
With so many comics out there with many controversial things to talk about, you would think it shouldn't be hard to book someone who can give the show the edge that viewers expect. Frankly, the point of the host is to have some sort of cohesive force throughout the program—without that force, it would be interesting to see if, well, anything interesting happens as a result.
It would seem that producers are relying on star power to keep the show going and whatever fashion statements that might come about, such as the infamous meat dress that Lady Gaga wore last year.
Some of the stars slated to perform include Beyoncé (to perform along with Pitbull & Jessie J), Adele, Bruno Mars, Chris Brown, Lady Gaga, Lil Wayne and Young The Giant, according to MTV.com.
Miami rapper Pitbull will bring his hit 'Give Me Everything' to the big stage with special help from cohorts Ne-Yo and Nayer (as if we haven't heard it a billion times already on the radio this summer).
Even though there won't be biting remarks from a movie star or comic host this year, it will be worth tuning in to see what craziness might take place. MTV.com reminds us not to forget that
while voting for most categories closed, you can still vote for Best New Artist, which will remain open into the show. Check it out Sunday, August 28, at 9/8c.