4/20-Today is National Weed Day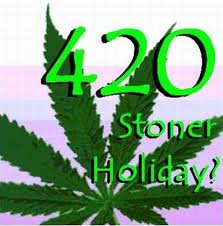 Many know April 20th as 4/20 and how you choose to celebrate it is entirely up to you but this date has become known as the Official National Weed Day.  Now how it got its name no one really knows.  Seeing as it is 4/20 let's take a look and find out exactly why a plant has its own 'National Day'.
There are many stories, one is that 420 is the police radio code for smoking pot, others have been known to say it is the best day to plant cannabis as summer is nearing and the heat and humidity is ideal for the plants.  Another funny coincidence is that California's Penal code section for marijuana use is 420. This one story really captures the essence of the entire day has to deal with the 1970's and San Rafael High School in California.  Every day at exactly 4:20 pm a group of about a dozen students would gather together and smoke pot.  Than you have people who say that it is the number of active chemicals in marijuana.  When it comes down to it there are as many different stories behind the name as there are strains of bud in California.
One of the most solid I came across however has to do with a Grateful Dead Concert.  In Oakland California during Christmas week, Steven Bloom, found himself wandering through the "Lot".  The "Lot" referred to the timeless gathering of hippies that seems to manifest right before every Grateful Dead Concert.  Now why Steven Bloom?  When a Deadhead handed him a yellow flyer that day in the "Lot", Steven read the message.  'We are going to meet at 4:20 on 4/20 for 420ing in Marin County at the Bolinas Ridge sunset spot on Mt. Tamalpais.' Moreover the flyer referenced the story of the students at San Rafael as its inspiration.  Which was great for Steven Bloom because despite being a reporter for High Times and co-author of Pot Culture he had never heard of "420-ing" before.  Bloom set the record straight and said that 420 has nothing to do with the police code, but the story about San Rafael is dead on.  That is why now at 4:20 pm every year on April 20th people from all over celebrate the magic plant.
Who can ever forget Cheech and Chong?  The comedy duo consisting of Richard "Cheech" Marin and Tommy Chong, are back at it as Nike is releasing their 420 Dunk High Pro SB this year on 4/20/2011.  Even though Cheech and Chong are well loved, as well as the number 420, their sneaker does not seem to be impressing anyone.  But still you all should go ahead and check it out, hey you never know!