Air Force Dumps Remains of 274 Fallen Soldiers in Landfill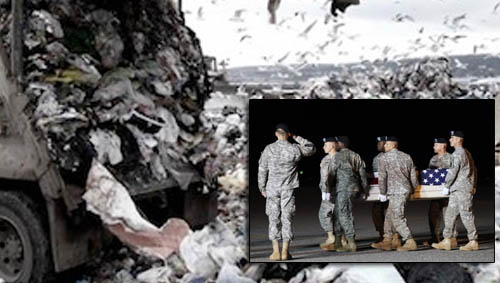 Air Force Dumps 274 Fallen Soldier Remains In Landfill
One cannot even begin to put themselves in the shoes of Gari Lynn Smith, the NJ widow who uncovered the United States Air Force for least 274 service members into a Virginia landfill over the last several years.   As the casket containing parts of her husband, Sgt. First Class Scott Smith, was lowered into the ground, Gari Lynn was aware that there were additional remains of his body that were not accounted for.  But where would the widow of a military service member logically think her husband's remains could also be laid to rest?  Well Arlington Cemetery of course.  Wrong.  Gari Lynn Smith details her interaction to the Washington Post So I started questioning, and they had a gentleman on the phone tell me no one wanted my husband so they cremated him with the rest of the medical waste and threw him in the trash." How does the United States Air Force dump 274 bodies into a landfill?  Well perhaps they forgot the Air Force's Core Values memo:
The United States Air Force lives by their Core Values, the first of which is integrity first, the second lies within service before self, and the third calls for excellence in all they do.   I get it.  Service before self means that you agree that if you are to lose your life in battle, defending this country, that you can be discarded in an old landfill?  It gets worse.
The Air Force has kept this a secret for three years now.  Until Gari Lynn Smith spoke up and began to inquire.  After her discovery, Rep. Rush D. Holt (D-NJ) used his political standing to press the Pentagon on how many other soldiers were disrespected in the same way as Sgt. Smith.
"What the hell?" Holt said in a phone interview with Washington Post. "We spent millions, tens of millions, to find any trace of soldiers killed, and they're concerned about a 'massive' effort to go back and pull out the files and find out how many soldiers were disrespected this way? They just don't want to ask questions or look very hard."
Lt. Gen. Darrell D. Jones reassured Holt that there was no intent to deceive, however if you are in a place of power than shouldn't you have put an end to it?
Never leave a man behind has been the saying throughout literature and media whenever referring to war.  Give a final resting place to everyone, no matter where it be, for they gave their lives for a cause, they deserve to be honored and have their names remembered, even if no one claims them as family.
What is most disturbing about this entire story to me is that the United States Air Force actually treats the military aircraft better than their service men and women if this that lives need to be sacrificed over this ridiculous war, Just a few days ago I watched a show on the Travel Channel, that explored the retirement grounds in the west known as the Boneyards.  Out in the Boneyards the United States Air Force retires various military aircraft.  So they have the space for planes but not people? Really?  But I guess I should lay off of the Air Force because I mean I know we are over budget, and at least they can recycle the old aircraft parts.  Sickening that you cannot respect those who trusted you.  This entire ordeal blows Penn State out of the water.
God bless our United States military service members.  My thoughts and prayers go out to the 273 other families that will find themselves in the same shoes as Gari Lynn Smith.  And Mrs. Smith, thank you for your service to this country and those who have guarded it.  You are truly a guardian angel watching over those who watched over us.
The Washington Post's investigation opened the information to the public, however unconditional love drove Gari Lynn Smith to find the rest of her husband, no matter where he was.  Without the perseverance of a devoted widow and the astounding journalism coverage, this would have been kept a secret by the Air Force for many more years to come.  This story truly breaks my heart to know that after giving up their lives in the name of their country, the superior members of the United States Air Force could not return the favor to their fallen comrades.
Fallen Soldiers Dumped in Landfill