Barack Obama, Justin Bieber, and the Holidays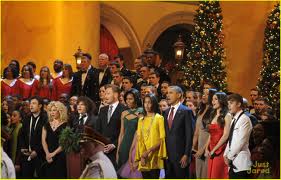 I cringed a bit when I wrote an article headline that included both Obama the President of the United States and the young and ultra-popular music star Justin Bieber. These two folks aren't anything alike but they both attended a holiday event in Washington and so at least that makes sense.
Two things are happening with the Obama these days. One is the fact that his family attended the 30th annual "Christmas in Washington" concert Sunday night.
The event, hosted by Conan O'Brien, was a concert to benefit the Children's National Medical Center.
In honor of the "season to celebrate miracles," Obama spoke about the story of Jesus' birth during his brief remarks to the crowd.
Other entertainers included the United States Naval Academy Glee Club, Washington Youth Choir, American Family Choir, United States Army Band Herald Trumpets, Ian Fraser and the Christmas in Washington Orchestra.
The concert will air Friday on TNT.
The second and more time consuming aspect of the President's life right now is his talk of running for another term.
He described both of the top GOP candidates, Newt Gingrich and Mitt Romney, as political fixtures.
Of Gingrich he said: "He's somebody who's been around a long time, and is good on TV, is good in debates."
"But Mitt Romney has shown himself to be somebody who's … who's good at politics, as well," he said. "He's had a lot of practice at it."
The main issues the GOP will be pushing, as usual, are lower taxes and looser regulations. There doesn't seem to be anything new there.
Obama knows Americans aren't satisfied with how things are now, but acknowledges he was (and is) judged against an ideal.
Obama is counting on voters giving him credit for avoiding a second Great Depression, bailing out the auto industry and passing a signature health care law.
He rejected Republican criticism that his economic policies amount to class warfare, saying he is simply trying to restore an "American deal" that focuses on building a strong middle class.
Obama makes an interesting point: "The problem is that our politics has gotten to the point, where we can't have an honest conversation about the greatest income inequality since the 1920s. And we can't have an honest conversation about the irresponsibility that resulted in the worst financial crisis since the Great Depression, without somebody saying that somehow we're being divisive."
Perhaps the only way to get anywhere is to have these honest conversations.
What do you think? Share your comments with us.