Battleship The Movie?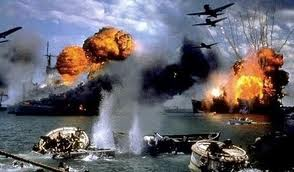 Most of us have played the board game Battleship.  You have ships, the other player has ships, you say something like, A-8, and the other players says hit or miss and if you sink the ship the other player says, you sank my battleship or whatever type of boat it was, and it's fun. Battlship is a member of the classic games club, a group of games that have been around since back in the day, and with all the Playstations, Xbox's, and Angry Birds out there, it is comforting to know that the old school board games still exist. Apparently Universal and Hasbro are teaming up to produce a movie about Battleship due out next year, starring such big names as Liam Neeson, Taylor Kitsch (Friday Night Lights), and Rihanna.
We can only imagine Battleship turning into the next Transformers-type franchise—a series of noisy, clunky, big-budget action flicks that easily make gazillions at the box office. We can also imagine that a Battleship movie could open the door for a slew of other films based on board games. There is no doubt that a movie could be based on "Monopoly" given the relevance of the financial world and the real estate bubble, or maybe an animated movie based on "Mouse Trap" for the kids. I'm not sure if I can see a film based on "Sorry" but, then again, anything is possible.
The sad part of this is that in a world with so much great literature out there, are we forced to produce movies about games, toys, or superheroes since those seem to be where the money is? Well, if that brings in the bucks, then I suppose the answer is yes. Green goes a long way in Hollywood, after all. The problem with churning out films rich in visual imagery and nostalgia, capturing the pop culture trends, often the storyline suffers (with a few exceptions).
Just like Transformers being basically a film about giant special effects (robots) fighting other special effects, Battleship could be the same thing only with submarines.
Here is the official synopsis and the teaser trailer:
Peter Berg (Hancock) produces and directs Battleship, an epic action-adventure that unfolds across the seas, in the skies and over land as our planet fights for survival against a superior force. Based on Hasbro's classic naval combat game, Battleship stars Taylor Kitsch as Lt. Alex Hopper, a Naval officer assigned to the USS John Paul Jones; Brooklyn Decker as Sam Shane, a physical therapist and Hopper's fiancée; Alexander Skarsgard as Hopper's older brother, Stone, Commanding Officer of the USS Sampson; Rihanna as Petty Officer Raikes, Hopper's crewmate and a weapons specialist on the USS John Paul Jones; and international superstar Liam Neeson as Hopper and Stone's superior (and Sam's father), Admiral Shane.
Will a movie Battleship be a hit like the game?  Or will Peter Berg's Battleship sink at the box office?