Congress Super Committee Begins Deliberations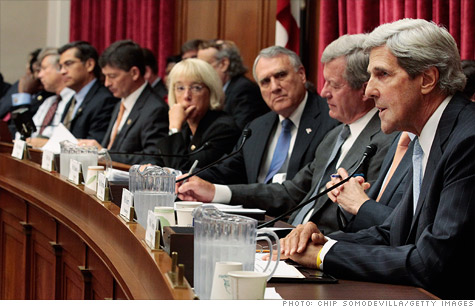 Congress Super Committee
Controversial subdivision of Congress known as Super Committee has been formed and began deliberations recently
Congress is back from break and with their Super Committee formed, deliberations have begun. This illusive Congressional committee has managed to avoid main stream media coverage, leaving many ignorant to their decisions and influence on American legislation. So what exactly has been going on with this controversial subdivision of congress and who are its chosen representatives?
According to CNN Politics, "House Speaker John Boehner and Senate Minority Leader Mitch McConnell filled the GOP spots on the 12-member bipartisan panel."
Congress Super Committee was created in August's debt ceiling deal which was passed by Congress and signed into law by President Barack Obama. The committee consists of 12 representatives tasked with saving America from financial ruin.
The democratic representatives on the Super Committee consist of Senator Patty Murray (D-Wash.), Senator John Kerry (D-Mass.), Senator Max Baucus (D-Mont.), Representative Chris Van Hollen (D-Md.), Representative James Clyburn (D-S.C.), and Representative Xavier Becerra (D-Calif.).
Democratic Senator Patty Murry was first elected in 1992. She is the only female representative appointed to the Congress Super Committee. Murry first ran for Senator as "a mom in tennis shoes" and has now risen to a position of democratic power. Online magazine, The Atlantic reports, "Despite her newly politicized role and staunch opposition to Republican policies, Murray's unassuming personality could suit her to working with GOP members of the committee."
John Kerry is the second democratic senator appointed to the committee. Kerry is well-known as he was the Democratic Party's presidential candidate in 2004 against former President George W. Bush. Since his failed attempt at the presidency, Kerry has been serving as chairman of the Senate Foreign Affairs Committee. His recent new-found position of power on the Super Committee has once again brought Kerry back into media spotlight as the debates begin.
Democratic Senator Max Baucus is the last democratic member of the Senate assigned to the Congress Super Committee. Baucus is chair of the Senate Finance Committee, which handles all tax legislation in the upper chamber. Baucus was a main backer of President Obama's health-care bill and helped to usher the piece of legislation through the Senate in the summer of 2009.
The fourth member of the Congress Super Committee is Democratic House Representative Chris Van Hollen. Van Hollen is a ranking member of the House Budget Committee and is charged with representing House Democrat's views in the upcoming debates on the new budget-policy.
Democratic House Representative James Clyburn is the fourth ranking house democrat. Clyburn serves as assistant minority leader- a position that was created specifically for him at the beginning of 2011. He is the highest-ranking black member of Congress.
The last democratic representative is House Representative Xavier Becerra. Becerra is the only Congressional Hispanic Caucus member serving in the House Democratic leadership. He is a member of the House Progressive Caucus and it is anticipated that his liberal views will pose difficulties in reaching a bipartisan decision as they are expected to be rejected by Republican votes.
The republican representatives on the Congress Super Committee consists of Senator Pat Toomey (R-Pa.), Senator Rob Portman (R-Ohio), Senator Jon Kyl (R-Ariz.), Representative Jeb Hensarling (R-Texas), Representative Fred Upton (R-Mich.), and Representative Dave Camp (R-Mich.).
Republican Senator Pat Toomey is a former congressman. He ran The Club for Growth, a D.C.-based economic-conservative group, for many years. The group pressures legislators to vote for anti-tax, pro-business agendas. His position on the Super Committee is deemed to be a primary challenge against the moderate Republicans appointed to the committee.
Republican Senator Rob Portman worked for both President Bush Senior and Junior before being elected in November. He served as United States trade representative and as George W. Bush's Office of Management and Budget director. Officials are confident that with his budgetary experience, any compromise will have him front and center.
The final Republican Senator is John Kyl. Kyl is the number-two Republican in the Senate and has been termed the "leadership guy" in this delegation. He has close ties to Senate Minority Leader Mitch McConnell and carries a lifetime 96.72 (out of 100) Senate vote rating from the American Conservative Union.
Republican House Representative Jeb Hensarling is serving as Republican Conference chairman. Hensarling is the fourth-highest-ranking House Republican. He is described as a firm conservative, both fiscally and socially.
Republican Representative Fred Upton is the chairman of the House Energy and Commerce Committee. Upton has been faced with claims that he is "not conservative enough" and is considered one of the more moderate republican representatives on the Super Committee.
The final member of the Congress Super Committee is Republican House Representative Dave Camp. Camp is chairman of the House Ways and Means Committee. He has extensive knowledge of tax policy and is considered to be another moderate republican representative appointed to the Super Committee.
The Congrss Super Committee is tasked with determining what is necessary to meet $1.5 trillion in deficit reduction. This reduction is in addition to the initial round of more than $900 billion in spending cuts, which were established in the August 2011 debt ceiling agreement. The Super Committee is required to complete its work by November 23, 2011- at that time their decisions will be presented to Congress. Congress must cast the final vote on the proposal with no amendments permitted by December 23, 2011.
The Washington Post reveals, "There is no upward limit to how much they produce in savings and no restriction as to how they come up with the savings, through increased tax revenue or cuts to entitlement programs." Therefore, the Super Committee seems to have free-reign; allowed to make any decisions they feel necessary to rectify America's financial mismanagement.
However, The Huffington Post affirms, "The so-called Super Congress will attempt to hold the majority of its meetings in public, in full view of the voters and the press, the co-chairs of the committee announced on Thursday after its first meeting. At least, they will really try."
Although this Super Committee seems to be above the law in many ways, they still are being held accountable to the American people. Rules have been put in place to ensure that citizens have access to the committee's deliberations.
According to The Huffington Post, "The co-chairs will be required to provide an agenda two days in advance of each meeting, and other members will be required to post their proposed recommendations a day ahead of the sessions. Staff will keep a full record of the votes and discussion at all meetings, which will then be made available to the public."
The Super Congress also has a website available for public view. Published texts of each individual recommendation is required to be posted within 24 hours of the committee's agreement and the source states that the committee "will post transcripts and video when possible and that all meetings should be open and accessible to the public." However, it is admitted that there may still be closed meetings, provided the Super Congress votes to close them to the public and media.
The Super Committee's members, structure, and seemingly unlimited privileges are solidified. This new legislative branch is currently undergoing negotiations and it seems now all Americans have to do it sit back and await their decisions. For more information on the debates please be sure to come back and visit theBQB.com as follow up articles will be posted outlining the deliberations and decisions being made by the members of the Congress Super Committee.
Congress Super Committee according to FOX News