Dallas Cowboys Meltdown Triggered Loss Against Detroit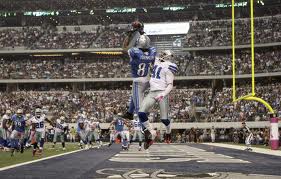 Dallas Cowboys Football Sunday
Detroit Lions victory over Dallas Cowboys
NFL Football has certainly been burning up the internet as teams such as the Dallas Cowboys, New York Jets and the Detroit Lions are shocking football fans everywhere.  Barely a week after turning a 20-point halftime deficit into an overtime win, the Detroit Lions proved again they're a legitimate contender this season by turning a 24-point, third-quarter deficit into a 34-30 road victory over the Dallas Cowboys on Sunday.
Down by a 24-point deficit midway through the third quarter, Detroit's defense started the rally against the Dallas Cowboys, with interceptions returned for touchdowns on consecutive drives. On the first one, Bobby Carpenter made a leaping interception then bobbed and weaved his way for a 35-yard return for a touchdown giving Detroit players some juice. Then cornerback Chris Houston added to that when he returned an interception 56 yards for a touchdown on the next series.
Matt Stafford and Calvin Johnson took over from there, hooking up for a pair of touchdowns in the 4thquarter. Stafford was 21/43, for 240 YDS, 2 TD's and 1 INT and Calvin Johnson finished the game with 8 receptions for 98 YDS and 2 TD's tying Cris Carter's NFL record of catching two TDs in four straight games.
"The key play of the game was Bobby Carpenter," Lions coach Jim Schwartz said. "We had no juice before that. It wasn't the game-winner, it didn't turn the tide completely, but it did give us the spark and got things going a little bit."  Unfortunately for the Dallas Cowboys the win was one for the record books that they would rather forget.
With this win, Detroit is now 4-0 and has won an NFL-best eight straight games. This also was a franchise-record fifth straight road win. "I think anytime you come back from 20 something, you are doing some kind of stealing," Lions quarterback Matthew Stafford said.  Matthew Stafford took the final snap, dropped to a knee and tucked the ball under his jersey for safekeeping.
As for the Dallas Cowboys and their apparent meltdown, it's clear they have more problems than just pointing the finger at QB Tony Romo.  If you look at his numbers on the day, Romo was 34/47 for 331 YDS, 3 TD's, 3 INT's. His stats are not at all that bad, except for the pics. After the game Romo had this to say, "The games turn obviously on turnovers. It is the most important stat there is in a game. That's why you protect the ball. It's my No. 1 job and I didn't do a good enough job of that today."
As for the Dallas Cowboys 2-2 start, they blew a 14-point fourth-quarter lead for the first time in franchise history in the opener against the Jets in Week 1.  They pulled out two straight late-game victories by Romo despite a cracked rib against the 49'ers and Redskins.  Since we are talking about their two victories, let's make it clear that they should have lost to Washington.  The Redskins deflated on their own, the Dallas Cowboys just got lucky.
Instead of a 3-1 start going into their bye week, Dallas's brass will now suffer through an additional week of questions about Romo's leadership and their overall inability to put games away. The good news is the Cowboys will have some time to get over all their injuries.
"Today and over the next week or two, it's going to be difficult to look back at it, but at some point here, we're going to move on," Romo said. "There's a lot of guys doing a lot of good things. We'll evaluate it and get better from it."  That may be just what the Dallas Cowboys needs going into their bye week, some time to heal and reflect on what each player's assignments are.  "When you play a 60-minute game, how can you say one guy is responsible for that? He wasn't out there when New York blocked a punt and he wasn't out there when we gave up touchdowns (to Calvin Johnson)," Dallas Cowboys defensive end Marcus Spears said.
As for Jerry and Romos brief scuffle after the game, "However we go, we'll go with Tony," Dallas Cowboys owner Jerry Jones said. "As Tony goes, we'll go."
Dallas Cowboys Video Tony Romo brushes off Owner Jerry Jones