Donald Trump: "I'm not running for president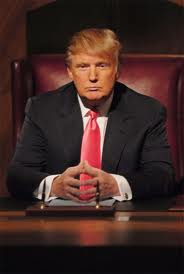 NEW YORK, NY—
After all that, Americans will not get to stand witness to "The Donald 2012."
Donald Trump announced on Monday that he will not be running for president on the Republican ticket, after months of flirting with the idea and going so far as to travel to top primary states in promotion of his possible campaign.  In the fashion we have all become accustomed to from "The Donald," he added that he still felt he could beat President Barack Obama in an election, but ultimately felt it was best for him to stick to his greatest passion, business.  He stated he would simply be running his campaign half-heartedly, and such an endeavor would need to have his full attention behind it, an impossibility given his demanding schedule.
In keeping with always grabbing the spotlight at the most opportune moments, the real estate mogul and reality TV star broke the news live on NBC as the network—which airs his hit show, "The Apprentice"—announced its fall line-up. Donald Trump's office followed suit and released a formal statement just as the billionaire was taking the stage at a Manhattan hotel.
Over the past few months, Donald Trump single-handedly breathed life back into the "birther" controversy, and took full credit for the president finally releasing his long-form birth certificate, thus proving he was born in the U.S. state of Hawaii and not in Kenya as many on the right have suggested.  The ironic thing it that the release of the document actually took away the greatest platform Trump had to rest his campaign on.  All attention paid to Trump was quickly squashed several days later when the president announced the killing of Osama bin Laden—which coincidentally aired as a special report in the middle of Trump's Sunday night show.
As unlikely as it may have seemed in resent election years, many public opinion polls leading into the week had Donald Trump leading the weak Republican field that has yet yielded a clear front-runner.  The top names on the ballot now appear to be former House Speaker Newt Gingrich and former Massachusetts Governor Mitt Romney, with many Americans eagerly anticipating an announcement of candidacy from former Alaska Governor—and 2008 vice-presidential candidate—Sarah Palin.