FDIC seizes five more failed U.S. banks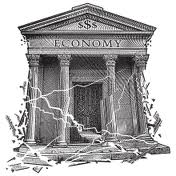 WASHINGTON, DC—
Another five U.S. banks were shut down by regulators on Friday, bringing the total number of closures in the country to 39 so far this year.
Two of the seized banks are located in Florida—the First National Bank of Central Florida, located in Winter Park, and Cortez Community Bank, based in Brooksville.  The two institutions had $352 million and $70.9 million in assets, respectively, which will be taken over by the Miami-based Premier American Bank.  That bank agreed to share the losses on its two new acquisitions—totaling over $320 million—with the FDIC.
The Federal Deposit Insurance Corp. also took control of First Choice Community Bank, located in Dallas, Georgia and having $308.5 million in assets, and Park Avenue Bank, located in Valdosta, Georgia with $953.3 million in assets.  Both of these banks' assets and deposits will be taken over by Bank of the Ozarks, in Little Rock, Arkansas.
The last bank to be seized this week was Mount Clemens, Michigan's Community Central bank, with $476.3 million in assets that will be acquired by Talmer Bank & Trust, located in Troy, Mich.
As with the two Florida banks, the FDIC will be sharing the losses for the other three failed institutions.
While banks have been continuing to fail as the year progresses, the pace of closures has slowed considerably when compared to the 64 closures that had occurred by this time last year—on the way to 157 for the year, which was the most in a year in over two decades.   The improving economy is no doubt helping many struggling institutions stay afloat as they try to pull themselves out of their bad debt.