First Female Kicker Attends Regional Combine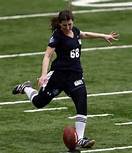 So history was made on Sunday in a male dominated sport.  That's right Lauren Silberman was the first female ever to tryout for the National Football League at the NFL regional scouting combine in New Jersey.
She first gained attention nationally last month when she told the NFL Network that she could boot 60-yard field goals and was ready to take on the combine. Where is that video documenting proof?
Unfortunately or fortunately, depending on how you look at it, Silberman only had the opportunity to showcase her kickoffs and never even made it to the field goals.  Her kickoffs traveled 19 and 13 yards and after her second kick, she waved for a trainer to come to her aid and then was done for the day. She later told reporters she aggravated a quadriceps injury she suffered last week while training.
NFL.com's Aditi Kinkhabwala said "Silberman didn't kick a single ball during her 30-minute warmup, opting instead to do push-ups and abdominal crunches."  What's up with that?  Not a single kick when given the opportunity to warm up??  Sit-ups and push-ups?  That clearly shows me that she didn't want people to see her kick, for whatever reason.
Silberman told Kinkhabwala she had been kicking footballs for only a couple of months and wouldn't divulge what was the longest distance she had kicked. (NFL Network) But she did mention she could boot 60 yarders to the network before??
"The 28-year-old Silberman, a graduate student at MIT and ex-club soccer player in Wisconsin, had never kicked in a competitive football game before, but she made the cut at this regional combine — kind of a minor-league version of the big combine that happened last week — based on her overall athletic ability." (Yahoo.com)  The thing is, she paid to be there!  They hold these combines all over the country and the only qualifications is to have played semi-pro or some college.  The fact that she played soccer and is a women probably got her into the tryout as the NFL is trying to attract more of a female audience and at the same time show that they are an equal opportunity employer.  Or maybe, they just didn't want to have a lawsuit slapped on them for gender discriminization? Shame on the NFL.
"Obviously, it was a very frustrating day because I wanted to show the world how well I could kick," Silberman said. "I kept trying to work through it, but between the pain and the risk of further injury, I thought it was best to stop." (Yahoo.com) "Kept trying to work through it?"  She only kicked twice!  "Risk further injury?" What was she saving herself for?
As a former kicker, I am insulted!  There are too many red flags popping up about her sincerity to compete.  She has changed her tune a few times about how far she could kick.  She doesn't warm-up by kicking which is a huge benefit to your legs, she mentions about paving the way for other female kickers breaking into the league and she has never even kicked a football for an organized team before.
I would like to ask her this, "If given the opportunity to go to an NFL camp would you go?  If offered a roster spot, would you stop everything else and play on the team willing to deal with all of the scrutiny and dissecting you would have to face, not to mention the pressure of playing?"  I wonder what she would say.
If you watch the enclosed video, you'll clearly see that her planting foot is too far behind the ball.  That will cause you to lose power behind your kick.  That shows me she doesn't know what she is doing.  It also shows that she stutter steps which will again lose power just before contact with the ball. I read that she was having problems just putting the ball on the kicking tee.  It kept falling off!  Well she clearly wasn't prepared for her tryout.  Some speculate that this was just a publicity stunt to gain attention to her gaming company.
What do you think?  PR stunt or for real?  Either way, she got her 15 minutes of fame!