Harry Potter Mania—Deathly Hallows: Part 2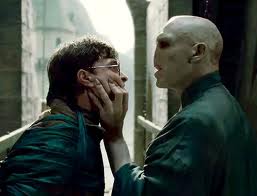 The final film of the Harry Potter series "Harry Potter And The Deathly Hallows: Part 2" is expecting to break box office records worldwide, likely keeping the series as the top grossing film franchise of all time.
Warner Bros. has said that the final film, playing in theaters starting this week, has already racked up $32 million in pre-sales.
Let me rephrase this: The movie has made 32 million dollars before it even opened.
Wow. Lines have been forming for the midnight showing all over, with local news stations
interviewing fans who have "grown up with Harry Potter" and believe it to be a strong part of their lives and our culture.
In Australia, one of the first markets to play the film, movie execs have seen impressive opening
day figures for the Australian box office, distributor Roadshow Films said on Friday.
Opening at 12.01 am local time on Wednesday, July 13, the film took AUS$7.02 million ($7.44 million) in 24 hours, eclipsing previous record holder, Lord Of The Rings: Return Of The King
by nearly $1.8 million.
"We're thrilled to see this powerful response from such a broad range of moviegoers. These incredible results are a testament to the incredible achievement of the filmmakers, cast, and, of course, J.K. Rowling, and should ensure the film series' place in history for years to come," Joel Pearlman, Roadshow Films managing director said.
The film opened on 753 screens and was the widest opening for any film ever in Australia.
Back in America, more than 6,000 midnight shows are sold out in advance, Fandango reported. To accommodate Potter fans, owners were scrambling to post additional 3:00 a.m. show times.
For its part, MovieTickets.com reported that "Deathly Hallows: Part 2" has already sold out 60 percent of all midnight shows. The film has sold out 4,500 showings listed on MovieTickets.com.
Thus far, the Harry Potter films have banked north of $6.37 billion worldwide, according to
Reuters.
The LA Times reported that the weekend take could eclipse the $158.4-million mark set by 'The
Dark Knight' in 2008.
When Harry Potter and the Deathly Hallows — Part 2 opens in theaters Friday, it will "mark the end not just of the most successful film franchise in modern Hollywood, but the most impactful piece of pop culture for a generation," said The Times.
Youngsters of the Potter-era will not know what to do with themselves, as they have spent much of their life reading the books, seeing the movies, buying the toys, visiting the theme park, and being absorbed in that whole world.
The film has gotten fantastic reviews and movie review aggregator website Rottentomatoes.com calls it, "Thrilling, powerfully acted, and visually dazzling, Deathly Hallows Part II brings the Harry Potter franchise to a satisfying — and suitably magical — conclusion." The movie has
been given a "certified fresh" rating which is an award given to theater releases reviewed by 40 or more critics (including 5 Top Critics) that score at least 75% or higher. "Harry Potter and the Deathly Hallows — Part 2" scored a 97% so far, which means that out of 168 reviews, only 5 have been bad.
Sounds like it's a good movie! Apparently most movie goers this weekend are about to see for
themselves, and if even half of these critics are right, fans will not be disappointed