Highest Paid Celebrity Couples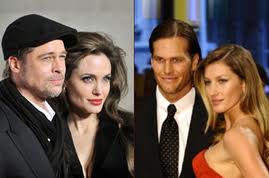 Don't you love it when rich people marry rich people? Me neither, but is it interesting to see what kind of money the A-listers are making out there.
For example, when you think of a super-model, what comes to mind? Maybe one thinks of words like tall, endorsement, or millionaire? What about billionaire? Probably not.
The world's highest paid celebrity couple, according to Forbes, is supermodel Gisele Bundchen and NFL quarterback Tom Brady with a combined $76 million between May 2010 and May 2011.
Who made more, Brady or Bundchen?
While Brady contributed $31 million of the total sum, Gisele brought home a decent amount more: $45 million in just 12 months. Forbes writes that Bundchen could possibly be the world's first billionaire model.
What do you call a billionaire supermodel—an extra supermodel? Wow, a billion dollars for making things look good—apparently appearance is everything. Aside from the modeling gigs, Bundchen is making big bucks from her product lines, as would be expected. Wouldn't you want to smell like a billion dollars? Then again, if Trump puts out a fragrance, then I suppose the answer would be no, you don't.
I could be wrong.
Number two on the list was Beyonce Knowles and Jay-Z with $72 million over the past year and number three was Angelina Jolie and Brad Pitt, with a combined $50 million annual income.
Here's a question for a group of guys sitting on a boat, fishing and making small talk: Who would you rather be with—Angelina Jolie or Gisele Bundchen?
Discuss.
In fourth place is David Beckham, along with his former Spice Girl wife Victoria, with combined earnings of $45 million between May 2010 and May 2011. In fifth place are Twilight's
Robert Pattinson and Kristen Stewart, who have both earned $20 million last year thanks to the franchise's global success, making their combined annual salary $40 million. Although since their fame is attributed to vampire movies, I would call it blood money.
The data to get these couples is based on the Forbes list of the most powerful celebrities. If you check the list out, you might just vomit when you see what these folks are earning. For example, Justin Bieber ranks higher (due to press rankings) than U2 and Elton John, and just slightly below Oprah. Enough said.
Related articles