It's official, Obama 2012 begins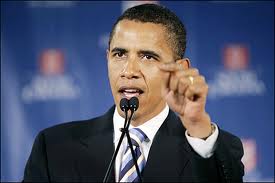 WASHINGTON, DC—
In a very low-key email sent to supporters, President Barack Obama said he was filling out the appropriate paperwork for the Federal Election Commission to commence his re-election bid in a formal way, thus officially kicking off his 2012 campaign.
The President stated that he is still focused and committed on doing the job he was elected to do—adding that it will likely be about a year before the race reaches full-on campaign mode—but said it was important for him to "begin mobilizing."
It's also never too early for the president to begin fundraising.  He has already begun raising campaign dollars for Democrats around the country in recent weeks, and officially filing papers with the FEC will enable him do begin collecting his own contributions as well.  His email ended with a simple link that simply read "donate".  His campaign is expected to raise a record $1 billion.
Many political analysts believe Obama chose the right timing to make his subtle announcement—as the economy is slowly showing signs of improvement, the unemployment rate is falling and, most importantly, the Republican party is struggling to find a viable candidate to run against the President—who is leading all potential candidates in early polls.
While several former Republican Governors, including Mitt Romney (Massachusetts), Tim Pawlenty (Minnesota) and Sarah Palin (Alaska) have begun laying the foundations for potential campaigns, none of them have formally announced they will be running.  In fact, due to the lack of candidates, the first scheduled debate of the Republican nominating race was just postponed from May to September.
President Obama rode his campaign of Hope and Change to a sweeping victory over Republican Senator John McCain in 2008.