Ku Klux Klan Wants to Adopt-a-Highway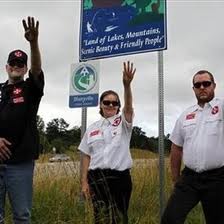 Ku Klux Klan Adopting a Highway
The Ku Klux Klan wishes to participate in Georgia's Adopt-a-Highway program but it doesn't look like it is going to happen. On Tuesday, state transportation officials denied the white supremacy group's application to adopt a portion of Route 515 in the northern part of the state.
In rejecting the application of the International Keystone Knights, officials said they were concerned
about safety issues the group's presence could cause driver distraction and social unrest.
"The impact of erecting a sign naming an organization which has a long-rooted history of civil disturbance would cause a significant public concern," wrote Keith Golden, Georgia's DOT director.
A day earlier, Ku Klux Klan reps told the Atlanta Journal-Constitution they weren't trying to stir anger, only clean the roads. "We're not going to be out there in robes," said Harley Hanson, the group's "exalted cyclops."
They may not be out in robes, but perhaps they might make some changes…
What if the KKK had adopted part of the highway?
Here are the top 5 signs you might see:
Next white rest stop, 2 miles
Jew Crossing
Click it or ticket (Ku Klux Klan doesn't hate seat belts)
Watch for Black Ice or People
Amber or Any Other Color Alert
It's interesting that the Ku Klux Klan is wishing to do this like it is no big deal, as if they are any other organization like the Kiwanis or the Elk Lodge. Maybe they have changed for the better? Maybe they do volunteering at soup kitchens (white homeless people only), have poker tournaments, run bake sales and car washes, and plan weekend trips like whitewater rafting.
The questions I ask myself are the following: Most organizations are proud of their history and often look back at their achievements or how their organization has evolved—does the Klan look back to their roots? If so, are they proud or ashamed? Maybe a little of both.