Largest Corn Maze Located in Northern California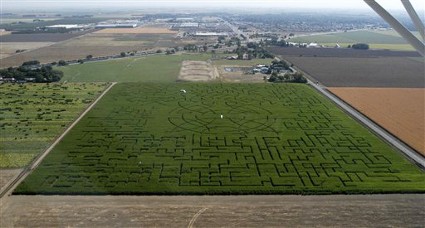 Largest Corn Maze
Northern California Largest Corn Maze 45 Acres
Looking for the largest corn maze experience? Today I went to Cool Patch Pumpkins, the place in Dixon where people get pumpkins, take pictures with scarecrows, and do fall-harvest themed stuff. More importantly, this is the pumpkin patch where the world's largest corn maze is located. That's right, a pumpkin patch in a small town in Northern California by the name of Dixon is famous for at least (and probably only) one thing: An intricate 45 acre maze that attracts tourists of all ages.  Dixon's Cool Patch Pumpkins holds the largest corn maze experience I have been to yet!
I had known that Dixon had the largest corn maze for years but had never gone to the pumpkin patch. Perhaps it is because I have no young children, meaning I haven't had the motivation to make the trip over there. Aside from the obvious reason of it being G-rated, I never understood why parents, by default, take their little ones to the local pumpkin patch almost as if it is one of those cherished life cycle events. I don't remember if I ever went to one when I was little, and if I didn't, then I guess my parents did not get the memo. It also became apparent to me, as I recently drove by a fire station which was giving a tour to young parents and their toddlers, that the fire station tour is another such life cycle event. When I saw pictures of an old friend's one year old baby on Facebook with fire engines, it clicked that every baby, yes EVERY baby apparently gets their picture taken with fire engines, because again, it's cool, different than just a stroll around the park, and perfectly G-rated.  I am exaggerating when I say every baby, but my point is that it sure feels like it.
Now, the largest corn maze in Dixon is probably more for adults than little kids because it is "designed to be challenging," and that is what it says on the back of the elaborate map they give you when you get your tickets. The map looks like a huge crossword puzzle, and you know you are about to be a lab rat trying to find the piece of cheese that is the exit.
It could take many hours to get through this 45 acre beast, but it only took me and the friends I was with around an hour.  What was our secret to navigating the largest corn maze? We had a designated navigator who stuck to the map religiously so we wouldn't be wondering around scratching our heads in dismay. Having a member of the group that has a sense of direction is key because then the others can talk and enjoy themselves without feeling lost and in the middle of this massive field with little hope of finding a way out. I would bet this is a truly scary experience at night since the only ways you can check your position are  little orange stakes that have a letter and number on them (map coordinates). When it is dark, I would suspect these markers are hard to see—thus finding the exit extra difficult.
I enjoyed walking throughout the largest corn maze in Dixon.  Just think the largest corn maze is 45 acres, making it nice to be surrounded by friends, corn, and, well, nothing else. Since I have no toddler, my motivation was that a group of friends planned to go on a particular day and so that was good enough for me. We all had a mission: to find the exit. Meanwhile we could talk and just make the most of this hopefully temporary predicament, knowing that the navigator would lead us to the right path.
When we finally did reach the exit, there was a sense of accomplishment. It was almost like the scene in Shawshank Redemption when Andy finally gets out of the prison, and he takes his shirt off and raises his arms to the heavens. While maybe not that extreme, I felt a sense of relief that we had survived and not spend 3 hours to figure out how to get to our piece of cheese.
There was no alcohol at this place, not that anyone would expect adult beverages to be at such a family oriented place. It would be fun if they placed a bar at the exit of the maze (not at the entrance) filled with pumpkin ales or other seasonal brews that could add to that sense of accomplishment. Maybe at least a bar for mock-tails or apple cider drinks? Just a thought.
Even if the largest corn maze is not right by your house, try and find a suitable replacement.  Corn mazes can be fun even if they are not 45 acres long. Remember it is your right, nay, responsibility as a parent to make sure your kids have that pumpkin-patch-local-farm-experience. You now have the memo.
Some things, no matter how touristy or campy they may sound, likely will never go out of style—and the pumpkin patch's largest corn maze is one of them.