Lent | 40 Days 40 Nights I'm Letting Go, I'm Living Life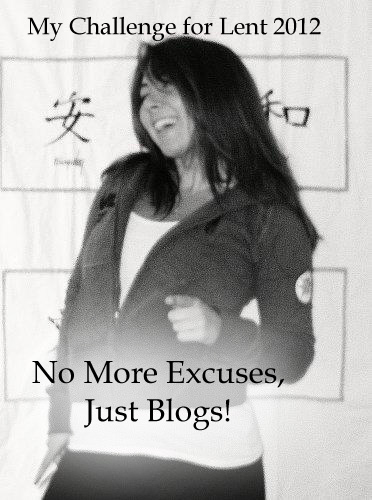 40 Days and 40 Nights, Lent 2012
Lent should be known as the season of giving, up things.  Fat Tuesday is the day of guilty pleasures as Catholics everywhere spend the day indulging (over indulging in some cases) on fatty foods and other sinful delights as they head into their 40-day journey.  What will you be giving up for Lent this year?
Last year I gave up Facebook, am I religious? Not overly, but I figured hey try everything once right?  Lately I have noticed I fell a little too deep into my religious beliefs to the point where they began to control my daily actions and decisions. Not healthy.  This year on Lent, inspired by my dear friend Miss Jackie Macchi, I have decided to give up one hour every day devoted to blogging about something or someone that has changed my life over the course of my life. But with a twist.
Ash Wednesday marks the first day of Lent, you know when your walking around the streets and bam someone has black smudges on their forehead? Yeah those are ashes.
Lately I have not been attending church as frequently as I would like, however I have been pondering what Lenten journey I shall embark upon this year.  Will I give up cursing?  How about saying sorry?  Chocolate? Alcohol?  All of these I can give up whenever I wish.
In religious terms Lent is all about the 40 days and nights leading up to the Holy week of Easter.  During this time the religious community goes through a period of fasting, repentance, moderation and spiritual discipline in order to reflect and pay respect towards the suffering that Jesus had to endure for humanity.  Jesus hung himself on the cross, he suffered under pain, anguish and humiliation, not for himself but for others.  To me Lent is all about testing your soul, finding the simplicity, the heart and the passion that you were born with.  Therefore I have decided in order to feel like I am worthy of Lent's test I must embark upon a "quest".
Alright I work two jobs putting me at about 50-60 hours a week, on top of which I commute back and forth to New York City 28 hours a week and every now and than blog for the BQB and some other sites.  Yep this has been my life for several months now.  What have I not been doing?  Writing.  A few years ago I began to understand the true meaning of the word sacrifice.  I started to live thinking, "sacrifice all you have in order to receive all you shall be."  Great right?  Well not if you decide to be lazy, spending more time making excuses why you can't do something rather than sucking it up and doing it.   Writing is what makes me happy, it gives me purpose and if I lose that, I will never forgive myself.  However what could I possibly sacrifice?  Well we can start with free time.  I got to thinking.  There are people who are busier than me.  God never hands things to those who stand there waiting.  Football games are never won by running backs standing still.  You have to be willing to go out and catch the pass, attempt to get into the end zone. Sure you might get pummeled, even knocked down a few times, but if you never give up your going to eventually score a touchdown.
It's time for this girl to get back onto the page.  We have something special here with the BQB.  It may not be the Huffington Post, or the New York Times, but we have readers.  There are only a few of us who keep this site going, but there are plenty of readers to keep us writing.  With that written… There are 40 days and 40 nights ahead of me and I plan on making them count.  Each day I will write one blog telling a story about love, admiration, courage, bravery, forgiveness, trust, friendship, connections, spirituality intellect, originality, etc.  During my quest I hope to discover both individuals and or events that would have otherwise not been found.  Delving into the military, spanning across continents and poverty, exploring the unknown (aka politics for this blogger), I hope to not only become a worldlier individual but also cause my readers to thirst for more in their own lives. Now whether these stories are from a personal perspective or enriched by breaking news, there will something for every reader in each individual tale. At night I pledge to write an email to every person that has altered my life along this course for the better.  If given permission I will share each email within the BQB's blog section entitled Holly Robin's Lenten Journey.
I know that times have been tough over the past year for many of my friends, even for myself.  What can I give up?  Excuses for why I cannot blog.  For some within the Catholic religion, the idea of God places him as a higher power on the inside.  Well personally I believe that God lives within us. I was given a gift to write; by ignoring it I am insulting him.  So here we go Lent 2012.  My first Lent blog, is admitting that I know I am my own worst enemy, although most times I make a damn good best friend.  Good luck to all of you who are taking this journey of Lent alongside of me! Stay strong and stay classy!