Leroy Petry Awarded the Medal of Honor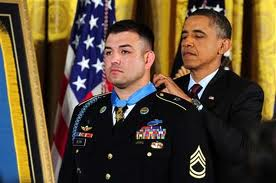 The war in Afghanistan has been raging for years. Many soldiers have been injured or have lost their lives in the struggle to defend our nation. Recently, a soldier was acknowledged for his sacrifice and service to our country.
July 12, 2011 was a historic day at the White House. A ceremony was held to honor Staff Sergeant Leroy Petry of the Delta Company, 2nd Battalion, 75th Ranger Regiment. He was awarded the Medal of Honor, our nation's highest award for valor, for his services in the Paktya province of Afghanistan.
During his service in Afghanistan, Petry courageously put himself in harms way to rescue his fellow Rangers, in turn sustaining a disabling injury.
The Medal of Honor citation stated, "Staff Sergeant Petry and another Ranger were engaged and wounded by automatic weapons fire from enemy fighters. Still under fire and wounded in both legs, Staff Sergeant Petry led the other Ranger to cover…The enemy quickly responded by maneuvering closer and throwing grenades.
The first grenade explosion knocked his two fellow Rangers to the ground and wounded both with shrapnel. A second grenade landed only a few feet away from them. Instantly realizing the danger, Staff Sergeant Petry, unhesitatingly and with complete disregard for his safety, deliberately and selflessly moved forward, picked up the grenade, and in the effort to clear the immediate threat, threw the grenade away from his fellow Rangers.
As he was releasing the grenade it detonated, amputating his right hand at the wrist and further injuring him with multiple shrapnel wounds."
Also according to the citation, "Despite the severity of his wounds, Staff Sergeant Petry continued to maintain the presence of mind to place a tourniquet on his right wrist before communicating the situation by radio in order to coordinate support for himself and his fellow wounded Rangers."
Petry's actions are amazing, not just that he put himself in harms way for others, but also that he was able to remain rational and act decisively after the trauma he sustained. When Petry spoke with the Army news service he disclosed, "It was almost instinct; from training."
Petry's actions are impressive. Only a truly altruistic person would risk their own welfare for that of others. However his view of his actions is plain. He affirmed, "These are my brothers- family just like my wife and kids- and you protect the ones you love."
Petry is the second living, active-duty service member from the war in Iraq and Afghanistan to receive this honor. Four other Metal of Honor recipients fought in the Afghanistan War, they include: SSG Robert Miller, SFC Jared Monti, LT Michael Murphy, and SSG Sal Giunta. Giunta is the only other living serviceman to receive this award.
Petry commented after the ceremony, "To be singled out is very humbling. I consider every one of our men and women in uniform serving here and abroad to be our heroes." Petry's comments were modest. Nevertheless other soldiers praise him for his heroism. One of Petry's fellow Rangers shook his hand and later proclaimed, "That was the first time I shook the hand of someone who I consider to be a true American hero. Leroy Petry showed that true heroes still exist and that they're closer than you think."
Petry joined the armed services in 1999; serving much of his career as a Ranger. He has been deployed to Iraq twice and six times to Afghanistan. Although injured, Petry continues to serve as a liaison officer and wants to remain a soldier- he recently signed up for another eight years of service.
Petry could have chosen to only save himself on the battlefield that day; but he didn't, he acted. Even though his actions cost him his hand, they gained him the respect and admiration of this great country. The Metal of Honor is one of our nations most esteemed awards and is intended only for the worthy. Petry's actions are commendable and have not only earned him the Metal of Honor, but also the esteem of those he swore to protect. Staff Sergeant Petry is undeniably a true American hero.