Man Killed by Grizzly Bear at Yellowstone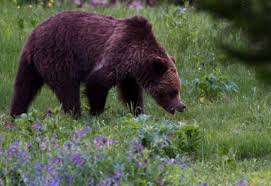 If you are hiking in the woods and you see a bear, what do you do? Do you run? Last Wednesday a grizzly bear attacked and killed a 57-year-old-man in Yellowstone National Park.
While bear attacks are relatively rare, it is important to take precautions to prevent the horrifying episode that this man (along with his wife who got away) experienced.
It is the park's "first fatal grizzly mauling since 1986, but the third in the Yellowstone region in just over a year," The Associated Press writes.
The man and his wife, according to park officials, had hiked about a mile and a half on the Wapiti Lake Trail near Canyon Village:
"When they surprised a grizzly sow with cubs. In an apparent attempt to defend a perceived threat to her cubs, the bear attacked and fatally wounded the man."
The AP adds that Yellowstone spokesman Al Nash "said the couple saw the bear twice on their hike. The first time, they continued hiking. The second time, the grizzly charged them and the man told his wife to run."
The woman survived and other hikers heard her calls for help and dialed 911, park officials say.
Park rangers are looking for the bear. They're also clearing the area "of all backcountry users," officials say. It isn't clear yet whether the couple were carrying pepper spray that has proved useful at fending off such attacks.
The couple's names have not yet been released.
Montana's KTVM-TV says the news that the bear hasn't been located is making some park visitors nervous.
The Bozeman Daily Chronicle notes that while "a bear warning sign was posted at the Wapiti Lake Trailhead … there hadn't been any reports of bear encounters on or along the trail this season. There had also been no recent reports of animal carcasses on or along the trail."
According to the Grizzly and Wolf Discovery Center, if you encounter a bear while hiking, do not run! Bears can run faster than humans and running could trigger predatory instincts in the bear which would not be a good thing. If the bear is not aware of you, quietly and calmly leave the area in such a manner as to avoid being detected. If the bear sees you, identify yourself as a human. Talk to the bear in a calm voice and put your arms out to the side and move them slowly up and down. You want the bear to know quickly and without doubt that you are a person and not another bear or some type of prey animal. If a bear behaving in this way attacks you, playing dead is your best defense. Lay flat on the ground, face down and cover your head and neck with your arms and hands. Most grizzly bear attacks are defensive in nature.
Another option is to use bear pepper spray. Bear pepper spray has proven very effective at repelling approaching or aggressive bears and reducing the incidence of human injury. In fact, it is even more effective than a firearm in preventing injury. Statistics show that people defending themselves with guns were injured about 50% of the time while people using bear spray usually escaped injury.
Yellowstone attracts millions of visitors per year. If you decide to go to Yellowstone, or other places where bears are located, make sure to stay in large crowds—which bears tend to avoid. As the summer continues to lure us into outdoor activities, being smart about how we tour parks and enjoy the more scenic parts of the country could save our lives.