Medal of Honor Marine Sgt. Dakota Meyer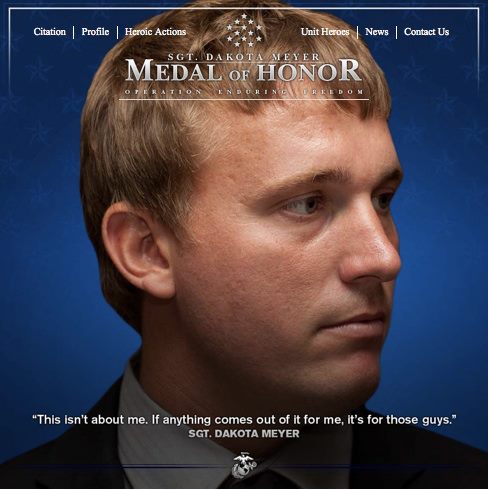 Medal of Honor Recipient Marine Sgt. Dakota Meyer
Meyer accepted the Medal of Honor in return to have the story told
Valor, courage, heroism, and gallantry are all words that decorate the Medal of Honor.  Presented by the President of the United States, the Medal of Honor serves to acknowledge individuals within the Armed Services that display extraordinary actions in the heat of battle.  Born on July 12, 1862 and distinguished throughout history, the Medal of Honor has fought its own battle, moving up through the ranks and ensuring military service members receive the proper recognition they deserve.
Recently Marine Sergeant Dakota Meyer proved that courage is truly an inspirational and admirable trait that only occurs when the inner spirit/soul/heart of an individual overrides their mind's greatest fear.  Not one for media, Sgt. Meyer continued to do what was best for his combat brothers even if it went against his personal beliefs.
Standing in front of the entire nation, cameras flashing, video rolling, President Barack Obama presented Marine Sergeant Dakota Meyer with the Medal of Honor for on September 15, 2011.  At the age of 23, Sgt. Meyer now accounts for 1 of the 85 living recipients listed on the official site of the Congressional Medal of Honor Society.  A brief description on CMOHS.org acknowledges Sgt. Dakota Meyer for "His unwavering courage and steadfast devotion to his U.S. and Afghan comrades in the face of almost certain death reflected great credit upon himself and upheld the highest traditions of the Marine Corps and the United States Naval Service."
How did the President of the United States feel about awarding the Medal of Honor to the first living Marine for heroism in the Afghanistan and Iraq wars? According to ABC News, President Obama, said that Sgt. Meyer represents the best of a generation that has served with distinction through a decade of war.  President Obama went on to say that Sgt. Meyer did his duty above and beyond, keeping the faith and traditions of the Marine Corps he loved.
Sgt. Meyer wishes for the story of his fallen comrades to be told.  He does not want the attention to be placed on him, instead he accepted the award publically, using the media to tell the tale of those who cannot tell it themselves.
From my experience with members of the military who return home, having to leave those they loved behind, I can only imagine that receiving the Medal of Honor is both a blessing and a curse.  It is a reminder that there is still valor, courage and unconditional love out there, but is it the sign of a real life hero?  If you ask me, yes, the Medal of Honor is a sign, however so is the uniform that every Marine puts on each day, the combat boots they lace up each morning, the shoes they shine each night, they are all signs of heroes.  Sgt. Dakota Meyer felt the same way, receiving the Medal of Honor did not make him feel like a hero, in fact in an interview with ABC's Bob Woodruff tears came to my eyes.  Detailing the guilt he felt standing there without his brothers, one can only imagine the haunting reality Sgt. Meyer and so many in his position face every morning they awake, knowing they made it when others did not.
"Meyer  says that if he was  faced with the same situation again, "I would do it a hundred times" though he would change only one thing:  "I wish I could have kept them alive."
He insists he is not a hero, but was only doing "what Marines do…I'm the furthest thing from a hero," he says, "if this is what it feels like to be a hero you can have it."  He adds, "What gives me the right to be standing here today and not their kids? I feel like I failed them and I failed their families." (ABCNews.com)
Perhaps a piece of Sgt. Dakota Meyer 's survival guilt can be linked back to the ignorance that is displayed in the rest of this story. Sgt. Meyer  agreed to receive the Medal of Honor publically to have the day of September 8, 2009 acknowledged, remembered and appreciated.  While Sgt. Dakota Meyer  certainly deserves the extent of the recognition he received, it's sad that the media is not keeping up on their end of the bargain.
The Army Times.com and The Marine Corps Time published an article not only featuring Medal of Honor recipient, Marine Sgt. Dakota Meyer , but also Capt. Ademola Fabayo and Staff Sgt. Juan Rodriguez-Chavez (each to receive a Navy Cross, the second highest award next to the Medal of Honor) both in the Marines.  Somewhere out there other articles mention these two men as well, although none in the detail of Medal of Honor recipient Sgt. Meyer .
What bought tears to my eyes as I write this article however is the confession that Sgt. Meyer  made regarding the other man who rushed into the fire alongside him to drag out their fallen comrades, Army Captain William Swenson.  Sgt. Meyer  admits if it wasn't for Swenson he would probably not be the only living Marine to receive the Medal of Honor.
Who is this Capt. Swenson? Why is coverage on his role in the battle of Ganjgal on September 8, 2009 limited?  Why isn't Capt. Swenson being considered as a possible recipient of the Medal of Honor?  Why is Lindsay Lohan in the news for drinking and driving while men are losing their lives for her to have that freedom?  Exactly.
Covering the Medal of Honor today I did not realize what I would uncover in the process.  Its no secret that the media covers what they wish to cover despite actual facts and information they may omit or even fabricate to make it newsworthy.  When it comes to a situation like this however I feel like the separation between civilians (like me) and those who serve within the Marines, Army, Air Force, Navy, and other special forces, is there because we draw the line that way.  How are we supposed to understand the minds of those returning from war when we cannot even conceptualize an inch of what they have seen.  Sure movies are made, television programs are done, but it is never first person and it needs to be so.  When someone receives the Medal of Honor its newsworthy.  What's so newsworthy about receiving the Medal of Honor? It broadcasts the President of the United States, Congress, our great government and than finally the individual who receives it, heck it even drums up the numbers at the recruiting offices I am sure.  However how does the recipient feel?  Who takes the time to tell the entire story; the truth?
Dan Lamothe, a staff writer for the MarineCorpsTimes.com went on in his article about the dark side behind the battle of Ganjpal, the same one that ABC News dedicated an entire sentence to in their coverage.
"First Lt. Michael Johnson, Gunnery Sgt. Edwin "Wayne" Johnson, Staff Sgt. Aaron Kenefick and Navy Hospital Corpsman 3rd Class James Layton successfully fought to free up some of the Afghan forces, but could not break loose themselves.
"We're surrounded!" Gunny Johnson yelled into his radio, according to witness statements from survivors. "They're moving in on us!"
The team pleaded for fire support, a military investigation later found, but was denied because officers at Joyce's tactical operations center underestimated how bad the ambush was and were concerned about killing civilians or U.S. service members with artillery rounds."
Why isn't Capt. Swenson acknowledged in the same fashion as Sgt. Meyer ? For that information please visit Dan Lamothe's article Afghan Ambush Heroics Go Unrecognized for the official story on Swenson, as there is no need to rewrite and adjust the story.  I wish for everyone to read it just the way I did.  Everything comes with a price, even a prestigious award such of the Medal of Honor.
The Medal of Honor has been around for over a 150 years, the first awarded in 1863. Operation Enduring Freedom (Afghanistan) 10 years on October 7, 2011 and Operation Iraqi Freedom 8 years since its launch in 2003.  As of August 2, 2011 About.com lists the combined death toll of the Afghanistan and Iraqi wars cost 4,683 brave Americans their lives.  Since the first Medal of Honor was awarded on March 25, 1863 there has been 3,457 recipients, Sgt. Meyer being the latest.
Receiving the Medal of Honor certainly comes with a heavy price.  Those awarded the Medal of Honor, as well as the families who receive it on behalf of those who died earning it, pay the price, not me and you.  Sgt. Dakota Meyer has a story that he wants to be heard, receiving the Medal of Honor publically was not what he preferred, however he went with it because it keeps the memories of First Lt. Michael Johnson, Gunnery Sgt. Edwin "Wayne" Johnson, Staff Sgt. Aaron Keneflick and Navy Hospital Corpsman  3rd Class James Layton alive.
Those who do not receive the Medal of Honor however are no less heroic than the men who do and Sgt. Dakota Meyer wishes the public realize that.  Sgt. Meyer told ArmyTimes.com Dan Lamothe back in November of 2010
"I definitely feel like I died with them.  Or, part of me did. A lot of people call me a hero, and it kills me. I feel like the furthest thing from that because I let those guys down. Anything that comes out of it, it's not for me. It's for those guys because they are the true heroes."
Later on in the interview Sgt. Meyer entertained the question regarding if he were to receive the Medal of Honor.
"If I get it, it's good because it's good for the Marine Corps, it's good for the guys and it's good for the parents. But I'm not in it for me," he said. "These guys gave the ultimate sacrifice for our country, and their families have to live with it. If they give it to me, it's not for me. It's for those guys and their families."
Sgt. Dakota Meyer, if by chance you do read this, you are a hero, you were one since the day you signed up for the Marines.  Thank you for your service and I hope this article does your story justice.  As for Army Captain Swenson, I hope you also are acknowledged in the proper manner. To me, those who serve our country define the term guardian angels, remember to always look out and be aware of them, in the same sense they are always aware of who they fight and sacrifice for.  Truly brave souls upon which even something as prestigious and esteemed as the Medal of Honor can barely begin to describe.
Medal of Honor Recipient Marine Sgt. Dakota Meyer in His Own Words