Memorial Day Salute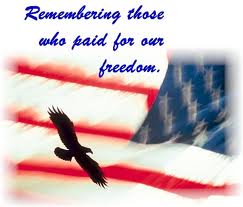 Memorial Day is known for the beginning of summer, barbeques, and beach traffic.  Originally declared Decoration Day, Memorial Day was supposed to be a day of remembrance for those who have died in our nation's service.
There are over two dozen cities and towns claiming to be where Memorial Day began. According to the Huffington Post, Memorial Day was originally called Decoration Day to honor those who died in the Civil War by decorating their graves.   
The New York Times expands saying that once World War I passed, Memorial Day became more as a tribute to the dead of all the nation's wars. 
Perhaps the best description I found was on a site entitled Memorial Day History was  "It is not important who was the very first, what is important is that Memorial Day was established. Memorial Day is not about division. It is about reconciliation; it is about coming together to honor those who gave they're all."
General John Logan officially proclaimed Memorial Day a holiday on May 5th, 1986.  From there it has evolved into being the last Monday in May.  Celebrations spark all over the United States with barbeques, family gatherings and summer excitement, however we must not forget that the real reason this holiday is even in existence is to commemorate our troops. 
God bless every single individual who has served, is currently serving and will serve, for they were the inspiration behind Memorial Day becoming a national holiday.  Never forget them because everyday we are free our military remembers who they fight for.  Happy Memorial Day!