Military Deployment A Civilian's Guide To Giving Back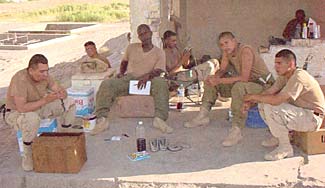 Military Deployment
How to Help Those Troops Deployed During Holidays
Military deployment comes at the worst times, usually the holidays.  When it comes to our boys and girls the military deployment schedule does not follow the calendar year.  It seems right around the holidays that military deployment is guaranteed actually.  Now I understand that some of you may not be affected by military deployment, but many people are, including those individuals deployed overseas.
Many say family comes before everything, however if you're in the same boat as me than you know that's not true.  My brother is a United States Marine, and this country comes before our family to him. I respect that and admire him for serving, along with all of my friends and loved ones who I have had the pleasure of knowing over the years.  This is the thing though, imagine being overseas without communication, the only thing you can do is wait on a letter, package, and some sort of acknowledgement that you have not been forgotten.
Around this holiday season I wanted to drive up awareness on those deployed overseas.  While my brother will hopefully be home to celebrate Christmas, there are many, including two of his fellow Marines, who will not.  Listen, even if you do not know anyone in the Marines, perhaps you know another individual serving overseas in a different branch of the military.  Who knows many you know someone in the Wounded Warrior program, who is land locked because they lost a piece of themselves (whether it be mental or physical) defending this country.  The possibilities are endless and if you are arguing with me than just stop reading.
For those of you who care and are constantly trying to figure out how you can give back to the military I have devised a quick checklist of ten different things you can do as an individual.  If you have someone in the military than you can go that route, but if you don't here is how you can sponsor, donate or just show your appreciation.
1.  The easiest thing to do.  Hang an American flag outside your home, something that shows your patriotic and thinking about America.  Our boys and girls love coming home to that or seeing pictures displaying our pride in the country they are willing to die for.  Next you can take a picture of this and share it via social media platforms as shown below:
a.)   Twitter with the following trends: #America #Marines #Military #GodBlessOurTroops #Army #Navy #UnitedStatesofAmerica
b.)   Facebook: Upload it to your account or find a group such as one that I started "Giving Thanks To Our Troops 24/7" and simply post the photo with a small caption for all those who choose to read.
c.)   Stumbleupon and Digg: People are always browsing these social platforms and they are simple to use! Start up an account and share pictures that you think others would like.  Tag them with keywords or categories for our military service members to see!
2.  While on the subject of simple and free, another Internet sensation can easily allow you to send a video package out to those military service members deployed. YouTube.  Some of us are lucky enough to have editing software or a video camera to make a nice montage for the troops, however if you don't than check this out.  I used my iPhone to capture individuals on the streets of New York City thanking our military service members and Veterans for their service to our country.  I went home, plugged my iPhone into my computer and instantly uploaded the footage.  Next you can go to YouTube and utilize their editing software right on the site! Its amazing what internet technology can do!  Than name the video using specific branch name or United States Military (depending on who you made the video for) and post it up! Check out some videos I did for the military service members using Final Cut, Keepvid.com and some photos I had from home at my YouTube site!
3.  WoundedWarriors.com is a great site to visit to find out how you can help those who have fought and paid the price of war.  While marching in the Veterans Day Parade my friend and I came across a few Vets who volunteered for the organization and the website hosts endless possibilities for volunteer positions and more.
4.  Check out your local area for Army, Marine, Navy and or Air Force recruiting offices.  Give them a call.  Ask if they know any troops that you could send a package too.  In the package feel free to put the following items:
a.)   Toothbrush, toothpaste, or those one time brushes with the toothpaste inside, either Colgate or Crest, and mouth wash.
b.)   Deodorant (travel size if you want and send a few), shampoo/conditioner, body wash, a bath poofy (see picture)
c.)   Packages of tuna (not cans), saltines, nuts, beef jerky, gum, mints… Things that will survive a two-week mailing and a week or two more after that.
d.)   Baby wipes for their faces.  The desert can be harsh and baby wipes come in handy when they are out in the field.  (I have found $1 facial and hand wipes at my local drug store Rite Aid)
e.)   Lotion and or chapstick to combat the heat.
f.)    Men's Health Magazines or Entertainment Weekly I have sent.  (According to some Veteran friends of mine, Playboys are often welcomed) Just something for them to read and see what is going on at home.
A year ago I actually found a camo Snuggie in the Rite Aid by my house.  I decided to send it to my buddy Danny and wouldn't you know, it came in handy!
5.  Cards/letters from local elementary schools or churches.  Two years ago I approached the Pastor of my church and talked to him about doing letters to the guys in my brothers troop to lift their spirits.  During the time the whole issue with the West Boro church was going on and the guys needed a reminder on why they were over there fighting, risking their lives.  About 100 1st graders later, I had three big manila envelopes of cards wishing them well and thanking them for their service.  It made the world of difference to the guys to know they were fighting for the future of these small children, who cared enough to color and write thanks to them.
I cannot even begin to describe the feeling that radiated that day.  Gathered in an enormous gymnasium, over 150 individuals worked together to make a miracle happen.  No one cared if I was a member of the church, whether or not I attended Sunday mass, or if I was Catholic.  Instead they just knew there was someone who needed help and they wanted to do whatever they could to fight for those overseas.
You may think that the men and women overseas are fighting the battle and not thinking of home.  However if I had to bet, I would say you were wrong.  Many of them wonder what we are doing.  Do we think of them the same way they ponder our daily lives?  The answer is yes, most of us do.  However what keeps us from addressing these thoughts? Reminding them we are behind them 150% while they are deployed fighting in the name of the United States of America?
Red is for love, white the innocence they traded, and blue is for the pride under with they serve.  Our flag is made of the colors of love, innocence and pride. While military deployment may not directly affect you, it does keep you free.  The next time you enjoy a day with your friends, children or loved ones in general, think of the price that has been paid.  Give back to those who would give their lives this holiday season.  Military deployment is not what the Marines, Army, Navy or Air Force members choose, rather it is an order they must follow.
Operation Shoe Box

Blue Star Mothers