NASA Space Shuttle Launch Marks the End of an Era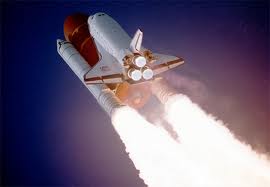 The Atlantis shuttle launch marked the end of an era for
NASA- a space shuttle era that is. The final launch of the shuttle program took-off
July 8, 2011 at 11:29 a.m. EST from Launch Pad 39A
at the Kennedy Space Center
in Florida.
It left Earth to complete the STS-135 mission, a 12-day operation to the International
Space Station. Atlantis is scheduled to dock with the space station onSunday, July 10, 2011.
Mike Moses, Program Launch Integration Manager exclaimed,
"We are really looking forward to a great mission. This is a very critical
mission for station re-supply. We're going to do our best to try and stretch it
out an extra day."
The STS-135 goal is to provide supplies and spare parts to
the station. These items are being transported in a multipurpose logistics
module, the Raffaello. The Atlantis crew consists of four astronauts: Commander
Chris Ferguson, Pilot Doug Hurley, and Mission Specialists Sandy Magnus and Rex
Walheim.
NASA has had an impressive run with this shuttle fleet,
which first launched on April 12, 1981. The fleet began with the flight of the Columbia and was followed by other famous
spacecrafts such as the Challenger, Discovery, Endeavor, and of course Atlantis.  These crafts have performed many vital
services. They have carried people into orbit, launched, recovered, and
repaired satellites, conducted breakthrough research, and built the
International Space Station- the largest man-made structure in space.
The program saw many breakthroughs. It launched the first
reusable winged spacecraft, the Columbia
and advanced NASA's capabilities; pushing space exploration to a new level.
Moses went on to admit, "I think the shuttle program is
ending exactly as it should. We've built the International Space Station; we're
stocking it up for the future and ready to hand it off."
Space Center Director Bob
Cabana interjected his feelings on the final launch exclaiming, "It truly was
an awesome, spectacular launch."
So what is NASA planning next? NASA disclosed that the agency
is in the process of preparing for The Gravity Recovery and Interior Laboratory
(GRAIL) mission; it's goal being to create the most accurate gravitational map
of the Moon.
The GRAIL mission is set to embark in late 2011. The Mars
Atmosphere and Volatile EvolutioN (MAVEN) mission is also anticipated. MAVEN
will be the first mission dedicated to understanding the planet's upper
atmosphere and is scheduled to launch in 2013.
NASA certainly has a lot planned for their future and their commitment
to success is commendable. This final launch concludes a significant time in
NASA's history, but NASA's exploration continues.
With all this agency has planned, it is certain to uncover valuable information. These discoveries will
ensure even more advances in space technology- bringing us one step closer to the
stars.