Navy SEALS Team Six Takes Down Osama bin Laden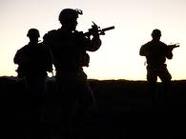 First I would like to say this, after hearing the stories of men and women already getting called to serve their country in the aftermath of Osama bin Laden's death, please say a prayer or give a thought today for the soldiers & military personnel, pray/wish that they will be granted the strength as they find the courage to lead them into the future that surely waits in the aftermath of Osama bin Laden's death. In capturing bin Laden no Americans were lost; let us pray/wish that this is the entrance into a new era, one where lives will not have to be lost in order for freedom to be won. Whatever your faith or belief may be, just keep them in mind.
Osama bin Laden was killed yesterday in Pakistan after engaging in fire with the wrong guys, U.S. Navy Seals to be exact.  After a tip off last August that Osama bin Laden was hiding out in the million dollar compound, located in Abbottabad, Pakistan, the United States began to closely monitor the activity around the area and eventually built a "mock compound" where the Seals trained during April.
When you hear the term Navy Seals, many minds automatically think water, boats, diving, but land operations are which led to the capture and death of Osama bin Laden? Isn't that what the Marines are for?  Well yes and no. U.S. Navy Seals are few and far between.  The 20-25 members who took part in ending the reign of Osama bin Laden have come to be known as SEAL Team Six.  Other names include DevGru or 'Naval Special Warfare Development Group'. Technically there is no "SEAL Team Six" but that is what they are being referred too since they are all black operatives.  Black operatives mean the 20-25 members of 'Team Six' exist outside of the military protocol, as they engage in operations that are the highest level of classification and therefore can often be outside the boundaries of international law.  What does this mean?  No names to give thanks to, just a division.  Records are rarely kept on the black operative members, because if they are ever caught this allows them to maintain plausible deniability and protect the mission of the Navy Seals.
SEAL Team Six first came into development as a direct response to the 1980 attempt to rescue American hostages being held in Iran.  The failure of the mission and the points where it fell apart demonstrated the need for a counter terrorism team that would operate at the utmost secrecy.
The operation that took Osama bin Laden out, happened because of a combination of dedicated and over the top intelligence work and a team of 20-25 individuals of whom practiced day in and day out over the last month.  'Team Six' flew into Pakistan yesterday by helicopter teams from the 160th Special Operations Air Regiment, part of the Joint Special Operations Command.  One of the helicopters, a CH47 Chinook, had an issue and had to conduct a soft crash landing during the beginning of the operation; however the SEALS went in and finished the job.  At the end of the operation as the US helicopters lifted off to get back to Afghanistan before the Pakistani planes were able to intercept them and destroy the mission.  Getting back to the base in Afghanistan around 5:45 pm ET, it would be in a few hours that President Obama would confirm the death of Osama bin Laden thanks to DNA proof kept by officials in Boston after bin Laden's sister had passed years ago.
Our military is an amazing group of men and women, and although I cannot put a face on each individual to thank them for their dedication and commitment to myself and their country, I can put words up on this article and pray that one day they shall reach them.  Those in our military give up everything so we can have each minute of everyday to enjoy to the fullest.  Please feel free to look around you today and thank those who may be in uniform, have worn uniforms and always know there may be those around you who are silent protectors.  When it comes to the military think of them as guardian angels, thanking them everyday by acknowledging them through both our words and actions.  God Bless America!