NFL League Meeting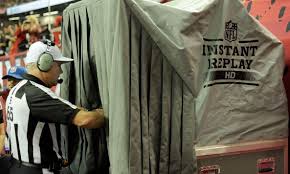 ORLANDO, Fla. –
 NFL owners voted Tuesday to significantly change the instant replay process along with a few other new changes.
Officially known as Rules Proposal 9, the rule states that referees can consult with the officiating department in New York during replay reviews, before making a ruling on the play.  What would happen is the NFL Officiating Command Center in New York immediately will begin to review replays after the call is challenged. By the time the referee gets to his "re-play booth," the Command Center can advise the referee on what to look for in the play. The referee ultimately makes the final decision on the play. NFL vice president of officiating Dean Blandino said, "It's still a referee review; he has the ultimate authority."
Another not-so-fun new rule is no more dunking the ball over the crossbar, a move Tony Gonzales has made famous.  NFL vice president of officiating Dean Blandino told the "Dan Patrick Show" on Tuesday that dunking over the crossbar will be penalized, starting in the 2014 season.  There already was a rule in place against using the football as a prop in celebrations. Penalizing dunks is an enforcement of the existing rule, as opposed to a new rule." Using the ball as a prop or any object as a prop, whether that's the goal post, the crossbar, that will come out and that will be a foul next season."
Also Tuesday, owners approved a ban on "roll-up" blocks to the side of an opposing player's leg. The rule had previously banned only those blocks from behind.  Roll up Blocks are when a player rolls up the back of a player's legs.  Can anyone say Ndamukong Suh?
One tweet I read earlier today was from DeMarcus Davis.  He wrote, "NFL Players should be allowed to sit on the NFL Competition Committee since most rules directly affect the players…not coaches".  I agree here.  They already consult with the NFLPA on potential rule changes, why not elect a player from each team to sit in on the meetings?
Others on the table include:
Moving the line of scrimmage for point-after attempts out to the 25-yard line.
The extension of the goal posts.
Make every play — except scoring plays — reviewable.
The addition of cameras near the end zone to better determine whether or not the ball has crossed the plane of the end zone.
Stayed tuned to TheBQB for additional coverage.