Osama bin Laden Represented Terrorism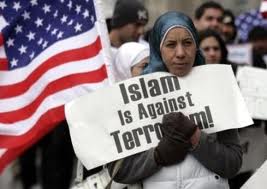 "Al-Qaeda represents terrorism, not Muslims and we must remember this." Ibrahim Aljahim, 29, of Detroit, said of bin Laden in USA Today, "He never represented Muslims or anyone else. But he did represent what the hands of fear can do to an entire people."
Muslims are rejoicing, but not for the same reasons as Americans.  Here in the United States, New York City in particular, we are rejoicing because the man who is responsible for one of the greatest terrorist attacks of which crippled our country and rippled fear across the world, is dead.  However those in the Muslim nations are rejoicing because the man who was responsible for slandering the name of an entire people is gone, no longer can Osama bin Laden call himself a Muslim.
Arab-Americans and Muslims felt the effect after bin Laden's Sept. 11 attacks as federal law enforcement shifted its focus toward counter-terrorism.  Looking at the community around them led to additional cases of scrutiny towards the Muslims within the community.  However Osama bin Laden was a name that left a bad taste on all any tongue it rolled off of.  The 'patron of all terrorists' Osama bin Laden was killed yesterday May 1, in Pakistan by U.S. Navy Seals. "It's a great thing," said Aljahim, head of Arab American Outreach. "We're very happy. He hurt Muslims more than any other religious groups."
President Obama confirmed the death of bin Laden yesterday at 11:36 pm during which he said, "Bin Laden was not a Muslim leader. He was a mass murderer of Muslims."
While President Obama is right in what he says, at the same time, some Arab-American leaders cautioned that the battle against extremism is not yet over.
"As gratifying as it is to see this, we should continue to be on alert," said Imad Hamad, regional director of the American-Arab Anti-Discrimination Committee. "Executing the symbol of bin Laden does not execute the ideology (of extremism). It's a vital mistake to focus on the person and ignore the ideology."
I came across a blog written by El-Baghdadi, where they write about being a Muslim in the aftermath of bin Laden's death and at the end reflect on what it means to Americans and the Muslim community.
"So on this day, May 2nd 2011, as a Muslim I say to the West – sorry for al-Qaeda. And I say to al-Qaida – may God forgive you, thank you, and good bye.  History books will say that Bin Laden died in Pakistan around May 2011. They should also write that Al-Qaida died in Sidibouzid around December 2010." (El-Baghdadi.com)
It is speculated that the supporters of bin Laden will act on his death claiming him as the #1 martyr of al-Qaeda.  Many are bracing for intense fighting in the battlefields of Iraq, Afghanistan, Somalia and Chechnya, as the forces of good and evil will surely clash.  Where as the Muslims who have been stifled by the actions of bin Laden and al-Qaeda welcome a new day, those who act as extremists claiming they do everything for Allah will surely seek to prove that they cannot be stopped and set about the course of revenge.