Oscar Winning Director Steven Soderbergh Switching Careers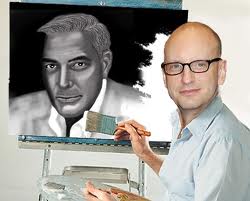 Steven Soderbergh is known for directing such films as "Traffic" and "Erin Brokovich" and while there have been rumors of his retirement which he has denied; he recently acknowledged to The New York Times that his interests will shift elsewhere after a few more films. Currently he is about to release the disaster flick "Contagion" that deals with a virus pandemic. The director tells the Times that this is an "ultrarealistic film" with many big name stars in the cast (Matt Damon, Kate Winslet, Gwyneth Paltrow, Laurence Fishburne, Marion Cotillard, Jude Law).
This is probably a bad movie to watch if you are a germaphobe.
Director Turned Painter
The career change Soderbergh has in his future is painting.
"I'm interested in exploring another art form while I have the time and ability to do so," he said. "I'll be the first person to say if I can't be any good at it and run out of money I'll be back making another 'Ocean's' movie."
"He wants to paint and he says he's still young enough to have another career," Matt Damon told the Los Angeles Times in January. "He's kind of exhausted with everything that interested him in terms of form. He's not interested in telling stories. Cinema interested him in terms of form and that's it. He says, 'If I see another over-the-shoulder shot, I'm going to blow my brains out.'"
Just last month at Comic-Con, the director laughed off what actor Matt Damon had said.
"Matt Damon is apparently as discreet as a 14-year-old girl," he said (via Movieline). "I had this drunk conversation with him while shooting 'Contagion' and four days later, I read about it in the paper. And he read it verbatim. […] Nobody in this economy wants to hear about someone quitting a good job. That kind of got blown out of proportion. And that's Matt's fault."
Besides
"Contagion" he has completed the action film "Haywire," set for a January release, and will shoot only three more movies, all in the coming months: "Magic Mike," inspired by the actor Channing Tatum's experiences as a stripper; a big-screen version of the 1960s TV hit "The Man From U.N.C.L.E."; and a long-planned Liberace biopic that is due to star Michael Douglas and Damon.
Over the past couple of decades Soderbergh has done well experimenting with different genres in low-budget and mainstream Hollywood form.
In this economy, many of us may roll our eyes at the luxury of being able to switch to a profession such as painting, but when you are an Oscar-winning director, apparently you can do whatever the heck you want.
Maybe we should all strive to be Oscar-winning directors? Better yet, we should all strive to have a job where the heart is—as opposed to just something that pays the bills. Of course this is easier said than done, but a good thing to always keep in mind, regardless.
Warner Brothers will release "Contagion" on September 9th.
Related articles