Pomegranate Produces New Study on Anti-Aging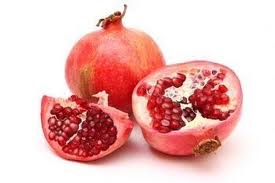 Pomegranate Anti-Aging Fruit
Pomegranate is another fruit that has been shown to have health benefits. An always popular topic these days is trying to look and feel younger. Since we have yet to find the fountain of youth, the best we can do at this point is look at foods that may slow down the aging process, pomegranate is on the list.
Upon looking through natural food sections at stores, reading various medical reports, and browsing through research, I feel compelled to stress the importance of consuming what I often call the "funky juices."
Most of us wouldn't think to drink pomegranate juice like we drink orange or apple, mainly because it is not as available or as inexpensive. A recent study, however, points out that this may be a drink in which we would be wise to shell out a few extra bucks.
Pomegranate has previously been linked to the prevention of heart disease and stress relief but now researchers from the Probelte Bio Labatory in Spain have found that the fruit juice also slows down the natural oxidation of DNA.
You may have heard the term 'anti-oxidant' but never really thought about that it means or does to the body. Aging is basically how we rust—how we show our wear and tear. Our cells break down over time due to a process called oxidation. Researchers are pointing to substances, such as pomegranate juice, because the process of cell damage is significantly reduced—which means we don't age as fast as we normally would.
This is huge. Instead of paying big bucks for that anti-aging cream or the thousands of other products that are praying upon the high demand that is the 'want to look younger' craze, pay a few more bucks to get some hardcore anti-oxidant juice. Of course there are pills for anti-oxidants as well, if that is more of your style, but personally, I prefer to stay pill-free and pour a glass of anti-aging goodness.
You hear about these juices on Dr. Oz or any health-related program and I think it goes in one ear and out the other for most people. We are bombarded by "this is good for you" stuff and it is hard to pick out the stuff we really want to focus on and use on a regular basis.
My advice? Start yourself with consuming a funky juice every day or every other day. Besides pomegranate juice, other juices to check out include blueberry, cherry, acai, papaya, and perhaps one of the more powerful ones, gogi. Gogi juice is hard to find and very expensive, so that might not be a good place to start, but people swear by it and it apparently is great at boosting the immune system.
Why doesn't Coca-Cola or Pepsi come out with funky juices? Maybe then it would get more mainstreamed? The answer is simple: They are too busy selling water or fizzy sugar water. Why sell expensive juice when you can sell cheap H2O? Ah, business.
The next time you go to the store to get some soda, maybe think twice about your choice of beverage. Anti-aging is partly about making good food and drink choices. Think of it as an investment that will pay off when you are in your 60s or 70s, like a 401K.
I think that should be the slogan of the funky juice:
Liquid 401k. Invest in yourself.