President Obama Has Quit Smoking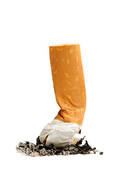 Michelle Obama recently had a press luncheon at the White House with 10 reporters from various print media that cover her the most. Among the topics discussed was her husband's smoking habit. According to Mrs. Obama, he had wanted to quit for a long time since he looks forward to able to look his children in the eye and tell them that he does not smoke. She had urged him to quit ever since he started his presidential campaign back in 2007.
During the luncheon, Mrs. Obama announced that Mr. Obama had not touched cigarettes for almost a year and could now be counted among the ranks of the 1.3 million of his compatriots who are estimated to kick the habit annually.
"He's always wanted to stop," said Mrs. Obama, adding that once she knew last year that he was serious about quitting she had left him alone. "When somebody's doing the right thing you don't mess with them," she said.
Mr. Obama, 49, has confessed to picking up the nicotine addiction in his late teens, though his usage had dwindled to a few cigarettes a day by the time he launched his campaign for president in 2007, according to the Telegraph.
She can't pinpoint the date. "But I don't know exactly when because he never smoked a lot to begin with. So I never saw him smoke, so you have to talk to him about — no, I mean, he'll know whenever. I don't have the discussion with him because it's always been — it's a personal challenge for him, so it's not something that I can be like, 'Have you smoked today, have you smoked today?' But I know that it's been — it's been a while, so — and I'm very proud of him."
Mrs. Obama has been on various talk shows lately including the Today Show and Live with Regis and Kelly discussing life in the White House as well as her campaign to fight childhood obesity called "Let's Move" which she hopes to take around the globe as one of the biggest items on her policy agenda.