Randy Travis Arrested for Public Intoxication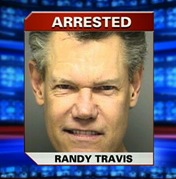 Randy Travis
Country music star Randy Travis was arrested for public intoxication apparently as the result of post-Super Bowl festivities. He apologized for his actions, and people will soon forget the whole thing happened. The most newsworthy aspect of that event was the fact that police found him outside a Baptist Church with an open bottle of wine.
I can't say as I understand why that is in any way shocking because, let's be honest, there was a lot of wine in the Bible, but then I digress.
The bizarre thing is that this could be good for Travis from a publicity standpoint, because he made news headlines. Granted it wasn't under the best circumstances, but he made it right and the worst people could say is that he made a mistake. Meanwhile people are talking or at least thinking about him. Sometimes you can only wonder if there is such a thing as bad publicity. For show-business, the more your name is in the media, the more you are worth. Look at Kim Kardashian! Aside from her reality show, she could do or say anything that gets her a news story and she continues to be a more valuable asset. It is the disgusting byproduct of fame.
Aside from violating an open-container law, Travis didn't really do anything that millions of others wouldn't have already done (celebrate a big event with alcohol). So why is it news?
When MIA flipped off the camera during the Super Bowl halftime show, it made headlines. I watched the halftime show and didn't even notice it. That one I really tend to think was the brainchild of a PR person. Aside from Madonna slipping a bit when taking a step during her performance, there was nothing really worth writing about, and that means journalist desperation! Before the obscene gesture, most of us may not have even heard of MIA.
Bad news can definitely turn into valuable news.
Sometimes I wish there was a point system so that celebrities can be more accountable for such things. A media point system where good headlines give you a "white point" and bad headlines give you a "black point" and there are incentives for white points and consequences for black points. I know this would never happen, but it's worth considering because otherwise celebrities can get away with the worst and not much can be done about it. I suppose that is one of the perks of being a celebrity in the first place. Aside from fame and fortune, you have gained a certain degree of legal latitude.
Of course, most judges would argue that celebrities are susceptible to jail or prison time just like anyone else, but we all know that some rules can definitely be bent.
Randy Travis will continue to perform and do his thing. Other than a possible Wikipedia entry, it won't make much of a dent in his career. People continue to love Lindsay Lohan even though she clearly has had more than one brush with the law. Celebrities like her will be loved, and it would take some major shenanigans to change that.