Redskins Start Free Agency by Retaining Key Players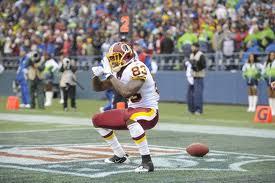 (PHOTOS) NFL Washington Redskins
Ashburn, VA-
The Redskins have decided to look within Redskin's Park as they start preparation for training camp. Some of the big moves have been with their current players. The team announced today that they will use their franchise tag on free agent tight end Fred Davis. This move allows the Redskins to retain Davis's rights during free agency.
On a positive note, Fred Davis is coming off a career best last season in which he caught 59 passes for 796 yards and three touchdowns. The 796 receiving yards were the fourth-most in a season by a tight end in Redskins history.
On a negative note, Davis was suspended for the final four games of last season due to violating the NFL's substance abuse policy. "Fred madea mistake," Shanahan said. "I do feel very good about Fred as a person. I liked the way he worked. I like his attitude. I like his development over the [two years]. (Redskins.com) So can Davis keep clean and hold off smoking the kind-bud? Only time will tell.
The Redskins have also retained kicker Graham Gano for the 2012 campaign. The third-year kicker converted 31-of-41 field goals in 2011, establishing a career-high. Versus San Francisco in week 9, Gano set a new Redskins record for the longest field goal ever made with his 59 yarder. Some still think he can be quite inconsistent because of his 10 misses last season, 5 of which were blocked though.
Finally, the Redskins have tendered a contract to restricted free agent left guard Kory Lichtensteiger. This means as a restricted free agent, Lichtensteiger can talk to other NFL teams but the Redskins get the first right of refusal and can match any offer he receives from another team. "If the Redskins do not match the offer, then they would receive draft pick compensation based on the tender amount." (Redskins.com) Lichtensteiger is considered a strong pocket presence against pressure coming from the middle and opening up the holes for the running backs.
These moves will allow the Redskins to focus on other important areas now, like a quarterback!