Pearl Harbor Remembering The Day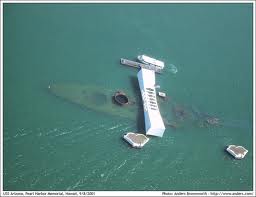 Pearl Harbor
Remembering The Day Many People Lost Their Lives
Seventy years ago, FDR proclaimed Pearl Harbor, "a date which will live in infamy."
December 7th marks the anniversary of the deadly attack on Pearl Harbor. The United States suffered 2,459 casualties during the attack on Pearl Harbor on Dec. 7, 1941. More than 50 million people are believed to have perished during World War II, the deadliest conflict in human history.
This date has always been very personal to me, not because I knew someone in the war, but it just happens to be my birthday. It is also the birthday of Delaware (1787).
Make sure you check the local paper to find out where remembrances will be held near you. In the San Francisco area, for example, two events will be held on Dec. 7. At the USS Hornet Museum (707 W. Hornet Ave., Alameda) Ed Silveira will share his memories of that day as a crewman on the USS San Francisco. The ceremony begins at 1 p.m., and will conclude with Chaplain John Berger performing a service of remembrance. At Moffett Field in Mountain View, two survivors of the attack will be honored guests at the Moffett Museum's art exhibit of Hangar 1 paintings, beginning at 2 p.m.
If you happen to be in the Hawaii area in the near future, check out this site to find a tour of the place it all went down.
According to the AP, about 120 survivors will join Navy Secretary Ray Mabus, military leaders and civilians to observe a moment of silence in Pearl Harbor at 7:55 a.m. Hawaii time — the moment the attack began in 1941.
Also this week, five ash scattering and interment ceremonies are being held for five survivors whose cremated remains are returning to Pearl Harbor after their deaths.
On Tuesday, an urn containing the ashes of Lee Soucy was placed on his battleship, the USS Utah, which is lying on its side near the place where it sank 70 years ago. The ashes of Vernon Olsen, who was on the Arizona during the attack, will be placed on his ship late Wednesday.
Even if Pearl Harbor was before your time or you didn't know anyone that lost their life in it, as Americans, we should pay our respect and, like other momentous times in history, be glad others have sacrificed to make sure we have a better life.
On behalf on the staff at the BQB, thank you and let's hope we stay free from conflict for many years to come.