South Carolina Primary Since 1980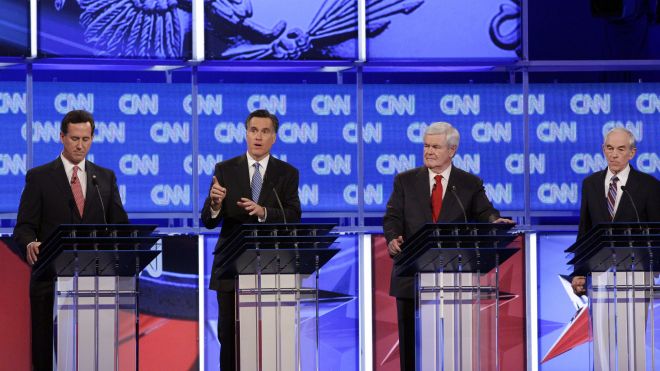 South Carolina Primary Voting Begins at 7 PM (12:00 GMT)
That's right the South Carolina Primary voting is just hours away and people are saying its a tight race.  Well let's see, in the South Carolina Primary you have Newt Gingrich, man with many wives (angry ex ones in fact) and than Mitt Romney, Republican today, someone else tomorrow.
Listen I am not a political nut and I have to say this whole campaign trail has been a bit ridiculous.  However the South Carolina Primary is something that caught my eye because it has a reputation.  Republicans? Reputations? Nooo! Actually it is interesting that whoever has won the South Carolina Primary has gone on to become the Presidential candidate since 1980.  But its not just between Gingrich and Romney.  Ron Paul and Rick Santorum are not giving up just yet.
Opinion polls show however that the race is between Newt Gingrich and Mitt Romney tonight in South Carolina.  Polls will open across the state at 7:00 PM (12:00 GMT).
New Gingrich was hit earlier in the week by the press after his ex wife Marianne decided to make it public information that the Republican runner had wanted an open marriage.  But does that make him a bad politician?  I have to say the theatrics in politics lately has made me sick.  Relieved when Donald Trump finally backed out of the race, I figured hey we are finally starting to get serious here.  This election has been about pointing fingers and opening closets in personal lives of it's candidates, its like watching a reality show series rather than a presidential race.
I have to say even though the South Carolina Primary has been the tell tale for the potential Presidential candidate, this time around may be different.  The Herman Cain train seemed to be full steam ahead until allegations flew from several women who had worked under him.  Perhaps they are trying to bring Newt down in the same fashion?  What about Romney however and this whole business of the commercial "When Romney came to town".  Have to be honest it's looking like South Carolina Primary is going to be the lesser of the two evils.  Stephen Colbert, my vote goes to you.  I salute you sir because in all your sarcasm, your the exact thing this country needs; intelligence.
Update 7:20 PM EST 1/21/2012
The numbers are in! Newt Gingrich ahead with 37% as Mitt Romney follows at 36%.  Paul pulls ahead from Santorum with 11% and Rick, the Jesus candidate, 9%.  There are numbers in the "Other" category coming in at 6%.
Major news stations including ABC, Fox News, and NBC called that Gingrich was going to be the winner before the AP even allowed the numbers to be released.
Update 7:24 PM EST 1/21/2012
Numbers for South Carolina Primary:
Mitt Romney 36% (912)
Newt Gingrich 34% (848)
Rick Santorum 14% (340)
Ron Paul 10% (244)
Update 7:31 PM EST 1/21/2012
Numbers for South Carolina Primary:
Mitt Romney 38% (2081)
Newt Gingrich 34% (1878)
Rick Santorum 13% (718)
Ron Paul 9% (501)
Other 6% (328)
When Romney Came to Town