Super Bowl XLVI Set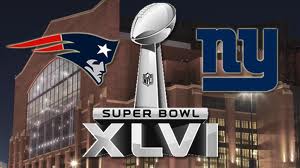 Super Bowl XLVI is set.  The AFC Champion New England Patriots led by Tom Brady will play the NFC Champion New York Giants led my Eli Manning, ironically, "In the house that Peyton built."  There is a lot to like about the Giants in this Super Bowl XLVI sequel from 2008.  The G-Men are three-point underdogs, a position which they would prefer. They love being on the road and Eli now finds himself playing in big brother Peyton's home field. They've won two straight on the road to what was thought at the time was the best two teams in the NFC.  And finally, Tom Coughlin knows how to energize his team and get them jacked up to play.
On the other side of the field are Tom Brady and Bill Belichick. They had their 18-0 streak snapped by a New York underdog team, four seasons ago.  "I know Tom (Brady) and coach (Bill) Belichick are really going to be looking for some revenge," Giants defensive end Osi Umenyiora  said. The Patriots are also still feeling the 24-20 loss at the hands of the Giants in week 9 of the regular season.
"There's nothing Eli hasn't seen at this point in his career," Peyton Manning said outside the Giants' locker room Sunday night after the win. "It's different than it was when he was younger, when there were things I could help him with. He's played these guys before. He's played New England. He's seen it all. He's truly an experienced, veteran quarterback."
I would have to say that after watching both games, the Patriots appear to be banged up after their day with the Ravens and the Giants seem to be playing on the same resiliency as 2008, but with a better understanding of the game at this level.
I'm curious to see who Belichick puts on his standard 12 man injured list.  For those of you not familiar with Belichick, he uses every means available to win.  He'll put 12 players on the injured list every week so the opposing coaches must play a guessing game on who is really banged up and who is not.  What ever happened to the straight up football where "Here we are, here you are, now let's dook it out?"
The Giants and Patriots will kick off Feb. 5 at 6:30 p.m. ET in Indianapolis for Super Bowl XLVI on NBC.