Tebow leads Broncos into the Playoffs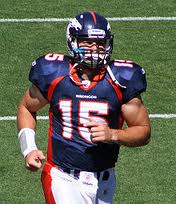 When asked if it's 'Tebow Time', the Denver Broncos QB stated, "No, it Broncos time!"  That's right, the Denver Broncos have won the AFC West and have also earned themselves a home game for the first round of the NFL playoffs.
This turnaround for the Denver Broncos is unprecedented.  Everyone seems to be looking for the answers to how Tebow could be this successful and how the Broncos won games at the very end.  Games they should have lost. It doesn't matter!  They made the playoffs representing the AFC West and are preparing themselves for a game against the Pittsburgh Steelers.
It's actually quite simple.  They are getting help from the man upstairs.  That's right, God is lifting them up and rewarding them for their efforts or faith as Tebow would say. "Broncos QB Tim Tebow is winning games because of God, pure and simple" … this according to one of Tim's Colorado pastors.
Pastor Wayne Hanson — who runs Summit Church in Castle Rock, CO where Tim's dad often speaks — tells TMZ God is actively intervening in Denver Broncos football games … and aiding Tim on the field because of his strong faith.  Hanson tells us, "It's not luck. Luck isn't winning 6 games in a row. It's favor, God's favor."  Pastor Hanson then adds, "God has blessed his hard work."  When asked if Tebow would be winning games if he wasn't such a strong believer — and the pastor replied, "No, of course not."
"At the end of the day, it's more important who you are than how you play on the field … What is special is that we're blessed with such a big platform and if we can take that platform and influence the next generation, encourage them to do it the right way, then ultimately, we're doing something that's successful with our lives."  This comment by Tim Tebow explains how he has asked the lord to work through him in order to reach others.
Think about it.  Who better to give people hope and faith in a society that has turned away from the very ideals and principals that this country was founded on!  A person that we admire, that we look up to.  A field General if you will.  What better person than a successful NFL quarterback?  Football is the nation's #1 sport, so go figure.
It's also funny how this is playing out.  Every time we see Tim Tebow on a knee and looking down (Tebowing), he is saying a prayer.  Not for the win, but that may come out as well, but for the opportunity to shine in his name to play well.
Tebow sees the Tebowing phenomenon as a 'blessing.'  "It's not my job to see people's reasons behind it, but I know [of a kid] with cancer that tweeted me, 'Tebowing while I'm chemoing' — how cool is that?" Tebow said. "That's worth it right now. If that gives him any encouragement or puts a smile on his face, or gives him encouragement to pray, that's completely awesome." Would you believe that "Tebowing" is now recognized as an actual word in the English language?  Tebowing- (vb) "To get down on a knee and start praying, even if everyone else around you is doing something completely different."
"The biggest thing that stands out to me, is a guy that's outspoken about his Christianity … Actually, I think we need more men to be like that in this world. I think the world would be a whole lot better." All-Pro cornerback Antonio Cromartie of the NY Jets.
It's interesting how roughly 83% of the world's population believes in a higher power.  I remember a quote from the movie "Any Given Sunday", a football movie directed by Oliver Stone and starring Al Pacino, Dennis Quaid, Cameron Diaz.  The team had seen themselves in a slump and when the team chaplain came in to speak to the players after a game, he said, "You and I have been in some tough places together.  I went to my playbook (the Bible).  And the book says the rain falls on the just and un-just alike.  Now we just loss four in a row, It doesn't mean that were specially cursed. Joy comes in the morning.  There's no atheists in foxholes.  Let's pray!"
Tebow has been known to recite several scriptures.  1st Corinthians 9:24- "Do you not know that in a race all the runners run, but only one gets the prize? Run in such a way as to get the prize!"  2nd Timothy 4:7 to 8- "I have fought the good fight, I have finished the race, I have kept the faith. Now there is in store for me the crown of righteousness, which the Lord the righteous Judge, will award unto me on that day."  Who's to say that God isn't a fan of sports?
I'll leave it up to you, but the clues and signs are soo obvious.  So far, it's the only plausible explanation for this insane Broncos winning streak.