The Season of Lent Has Begun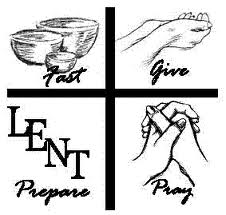 Christians around the world will observe Ash Wednesday today marking the first day of Lent, a period of fasting, prayer and repentance based on the 40 days Jesus spent fasting in the desert and ending at 6:00pm on Saturday March 30th, the Sabbath with the celebration of his Resurrection the next day, Easter Sunday.   The purpose is to make time to reflect on Jesus Christ – his suffering and his sacrifice, his life and death, burial and resurrection.
Most people don't realize that Fat Tuesday traditionally is the blowout party before the fasting begins on Ash Wednesday.  Thus, we see the big "Mardi Gras" celebrations mainly in New Orleans but around the world as well.
This year I am making a 100% effort to refrain from alcohol.  I've tried the last several years but failed miserably!  I don't go out and rage anymore but I still throw down at home.  March Madness doesn't help nor does it when my friends decide to have big dinner parties or BBQs.  This year, my challenges (besides the one's I just mentioned) will be a college buddy coming to town and a friend's bachelor party taking place during Lent.  For me, the key is to avoid the situations that can enable me to fail!  So no Cabo for the bachelor party and I'll meet my college buddy for dinner instead of a night out raging!
My goal here is to dig deep within myself and truly move in a direction closer to the Lord! My family and I are going to church more but I need to take this time to reflect on my life and where I (we) are headed.  The only way to get there is to have clarity and that's what I am after. This is one challenge I expect to pass but boy could I use a drink.