Tim Tebow Moves His NFL Platform to New York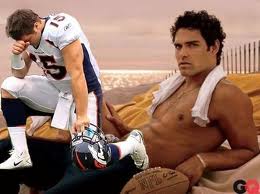 NFL, Tim Tebow and the New York Jets
Tim Tebow.  Call him a hero, call him a child of the most high God, or call him a quarterback trying to find his place in the league, either way, Tim Tebow is a brand.  A brand that has taken the sports world by fire.  With the Broncos taking Peyton Manning on a deal worth $96 million over 5 years, Tebow is head off to New York.  That's right; the nation's #1 TV market just landed the league's most inspiring player.
Former Redskin's Linebacker LaVar Arrington had this to say on his "Hard Hits" show about the situation this puts quarterback Tim Tebow in, "The last time I checked, winning is right in the NFL. That's what Tebow did as a starter. He took a struggling, losing team and led them to the playoffs. So what if it wasn't done the same exact way as the other guys around the league did it? He did for the Broncos what every franchise is ultimately looking to do– improve its bottom line. And how about creating a fan base that absolutely loves and admires him and generating television ratings for Broncos games that John Elway himself didn't reach. Not to mention the sales numbers on anything Tebow. Manning is a fine human being and one of the greatest of all time. Even so, I think this is a poor decision by the Broncos. Let the Tebow era play out. If he can't carry the load, we'll know. At the point where it becomes clear to all he can't, then action should be taken. Not before.    If it's me, I want Tebow on my team."
My thoughts exactly!  No one knows for sure how well Peyton Manning will perform when he returns to the field.  One concept I keep hearing is why did the Colts let Manning go?  The guy is the face and name of the organization.  After four neck surgeries, can he hold in a real game and for how long?
"In all honesty, Tim Tebow said, 'I miss home. I miss the South. And hopefully I'll land somewhere in Florida." Monica Culpepper, the wife of former NFL and Florida Gators player Brad Culpepper, told 970 WFLA radio in Tampa Tuesday that Tebow was hoping to head back to familiar surroundings. "I sure hope Jacksonville takes him because he's such a great kid, such a good player and would be so thrilled to come back to the South," Culpepper said.
The thing is, Mark Sanchez was just signed to a 3 year deal and does not want to share playing time.  Maybe the Jets front office feels that competition would be healthy for the team and Tebow would bring a huge lift in the locker room presence.
Which bring me to my next quote from, Adam Schefter, "Tebow is a fine teammate, don't get me wrong. But he is not driven by his loyalty to the Broncos, even if he'll never admit as much. He is instead driven by the potential of his platform, by his ability to brand himself in a manner that allows him to reach as large an audience as possible."  That audience is now New York.
Jeff Darlington of NFL.com said that "Tebow believes he has been placed on this Earth for one reason — the very reason he has been given the athletic gift that has allowed him to become a sports phenomenon. He is here to impact lives and spread his message. In New York, unlike any other place in this country, he'll have the biggest platform to do that."
As I mentioned before, the Lord works in mysterious ways.