USS Carl Vinson Returns to San Diego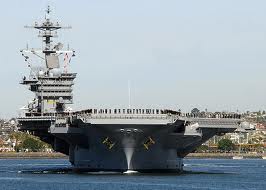 Coronado, CA-
It was a sweet and emotional homecoming today as family members welcomed home their loved ones from the USS Carl Vinson as it returns to port at the NAS (Naval Air Station) North Island in Coronado, Ca.
The carrier is returning home from a six and a half month deployment to the Persian Gulf, where the ship was responsible for stopping acts of piracy against civilian vessels, a jet engine that caught fire, and, most historically, Usama bin Laden's historical burial at sea.
Usama bin Laden's body was flown to the ship as it sailed in the northern Arabian Sea, after he was killed U.S. Special Forces during a raid on his Pakistani hideout. His body was slid overboard after it was prepared according to Islamic customs.
Capt. Bruce Lindsey, Commanding Officer of the USS Carl Vinson, said "America owes his crew a debt of gratitude. These sailors are just top-notch, the best of the best."
Some six thousand sailors and marines will take a much deserved and needed liberty, but not for long as the carrier is due to ship out again later this year.
Way to go troops!

USS Carl Vinson