New Years Eve A Night of Second Chances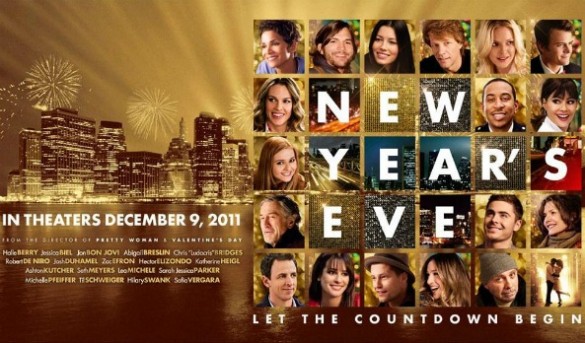 New Years Eve
New Years Eve.  One day to make mistakes, break hearts, find love, leave behind the past while you reinvent the future, drink until you can't stand, wear goofy glasses, sport ridiculous hats and oh yes, where the ten seconds of watching a ball drop can make or break you.  For me I am talking about the movie New Years Eve starring Ashton Kutcher, Hilary Swank, Michelle Pfeiffer, Robert DeNiro, Halle Berry, Jon Bon Jovi (looking good), Katherine Heigl, Seth Meyers, Jessica Biel, Josh Duhamel, Sarah Jessica Parker and beautiful blue eyed Zac Efron.  Just like the earlier movie, Valentines Day, New Years Eve has a star-studded cast to say the least.
It had been a while since I went to the movies and about two weeks ago I decided, what the heck, I am having the worst day, all I do is work and honestly the holiday was not exactly what I thought it would be.  Logical solution?  Go see a movie.   When I got to Island 16 Sherlock Holmes had already began and I hate missing the beginning of a movie.  Next up, Chipwrecked or New Years Eve. Hmmm… I thought, New Years Eve, it has to be better than Valentines Day after all!  It definitely was.
Following the lives of several individuals and couples, New Years Eve reminds us that every deserves a second chance and that sometimes one day, one moment; its all we need.  What city is known for New Years Eve?  New York City, of which it is estimated that over 1 million people will attend this New Years Eve to watch the ball drop in Times Square.
I don't know if New Years Eve was a better movie because the main character was not Ashton Kutcher, as my views of him have changed (before the whole split with Demi Moore, let's be real here people).  Instead the mind's behind the New Years Eve movie did a much better job intertwining the lives of each character, surprising those of us in the audience any chance they could.
Ashton was back of course, playing Randy, a cartoonist who hated the idea of New Years Eve.  Very different from his role in Valentines Day as a florist who loved the holiday more than his own girlfriend.  Thankfully they leave him in an elevator for most of New Years Eve with Elise (played by Lea Michele) which I have to say epic fail because the two had no on screen chemistry at all.  Next we are introduced to Claire Morgan, played by Hilary Swank.  Swank embodied Morgan's character brilliantly.  In charge of handling the ball drop, Claire Morgan has her hands full.  Accompanied by police chief Brendan (played by Ludacris) Morgan has to overcome an electrical issue before midnight in order to save her butt and New Years Eve.  However another engagement has her mind preoccupied.  Can she save New Years Eve and attend a promise she made to someone else?
Halle Berry plays nurse Aimee who is in charge of taking care of Stan Harris (Robert DeNiro).  Amazing connection and a few special surprises between those two as well.  Sarah Jessica Parker may be getting up there in age however she can still rock the outfits.  In charge of the Rockettes, Parker plays a mom who is over worried about her young daughter going to Times Square for the night.
Jessica Biel is back but this time she is joined by Seth Meyers as the two play Mr. and Mrs. Byrnes, a couple expecting a baby.  On a routine visit to the hospital the Byrnes find out that they have the possibility of winning $25,000 dollars.  How? Well the first baby born on New Years Eve wins! Interesting how it plays out.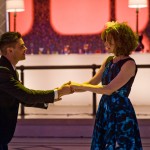 Best on screen chemistry however goes to Michelle Pfeiffer (Ingrid) and Zac Efron (Paul).  A woman who has lived her entire life for everyone else slams on the brakes after she received a holiday bonus that was basically an insult in disguise.  Stepping back Ingrid decides that this New Years Eve will be different.  Enter young dashing handsome Paul, courier and New Years Eve partier without a plan.  Dropping off four tickets to one of the biggest events, Paul and Ingrid come to a mutual agreement.  If Paul can make Ingrid's New Year's Eve wish list come true by midnight than he scores four tickets to one of the music industry's biggest events.
The magic of the New Years Eve movie doesn't stop there.  It's amazing how they were able to intertwine the lives of so many people but yet still stay on point.  Much better job guys! New Years Eve definitely a great movie and hope everyone checks it out!
New Years Eve Movie Trailer