Cost of Pasta Going Up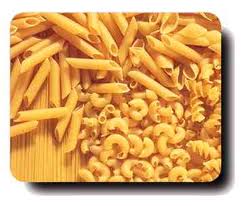 The economy has been rough over the past few years. Many of us have had to live on the cheap and cut corners wherever possible. Thank goodness for inexpensive foods like pasta, right? Usually for a buck, you can get a pound of the stuff and that, with some sauce, can feed 2-3 people, fairly easily.
What if pasta was expensive? Can you imagine going to the store and getting top ramen for 2 bucks (as opposed to 20 cents)? Or maybe spending 5 bucks for a dinner that previously cost only $2? A few bucks here and there, they add up quick and America won't be happy if regularly cheap foods start inching up in cost.
Why would pasta go up in price?
Let's look at the place where most (75%) of the durum wheat comes from in this country: North Dakota.
There has been significant flooding in North Dakota this year. According to the National Weather Service, "The spring and summer of 2011 saw one of the most significant flooding events along the Missouri River in recorded history."
It's also important to note the intense winter that they had this past year: "The winter of 2010/2011 produced near-record to record snowfalls, and by proxy, near-record to record snowpack and near-record to record amounts of liquid water equivalent. A large area of the Missouri basin, stretching from Williston, ND through Glasgow and Havre, MT broke snowfall records, and in fact received up to two to three times the normal amount of seasonal snowfall."
Flooding prevented planting on more than 1 million acres. This year's crop is expected to be only about 24.6 million bushels, or about two-fifths of last year's, according to the AP.
How will this affect restaurants?
A story from MSNBC tells us about Tony Nasello, an Italian chef and owner of Sarello's in Moorhead, MN (which borders ND) and how he doesn't plan to stop buying pasta for his customers even if he has seen it jump in price about 20 cents per pound. "Being Italian descent, I will always have pasta in my restaurant, that's for sure," he says. "It's comfort food. It makes people feel good."
While he may not cut down on the pasta, he may cut down on the other ingredients on the pasta plate — like your meats, your vegetables, and especially cheese (dairy is up right now).
Restaurant owners like Tony, likely won't raise the price of their dishes (at least due to the pasta) in part because the pasta dishes are often big sellers.
Let's hope the good farmers of North Dakota (and other states that produce durum) are blessed with better weather in the future so we can continue to count on pasta being there for us when we need it! I never want to look at a bowl of spaghetti as if it is a luxury—
Related articles