Taking lives,another sensless shooting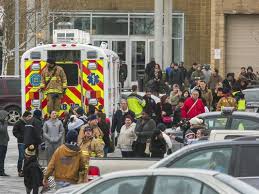 This past weekend we had another horrible shooting, this time at a mall in Columbia MD, leaving three people dead including the shooter.  This shooting is just another senseless act among our society when gun control and current laws seem to only protect the criminals and/or insane.
I was raised not far from the Columbia area, a community located outside of the D.C. Metropolitan area where nothing has ever happened like this. This quiet and family oriented planned community envisioned by the late developer James W. Rouse was based on his vision for "a safe, open community devoid of the racial, social and economic problems that plagued so many other places."  To many, the mall was a meeting point, a central location where people gathered.
According to reports, a little after 11:00am est. on Saturday a lone gunman, Darion Marcus Aguilar, 19 of College Park, Maryland, fired between six and eight shots, hitting four people, killing two and one person who suffered a gunshot wound to the foot. The fourth suffered only a minor injury.  Aguilar then turned the gun on himself.  When police found Aguilar's body, they found a large amount of ammunition on him and two homemade explosive devices.  Killed were two store employees, Brianna Benlolo, 21 and a mother of a two year old and Tyler Johnson, 25, skate shop employees at Zumiez located on the second floor of the mall.  Aguilar, a teenager who graduated from high school less than a year ago had no previous run-ins with law enforcement and seemed to be a quiet kid that loved to skateboard.
Motiv?  Benlolo and Aguilar lived in the same area and were of similar ages and Aguilar loved to skate and the Zumiez is a skate shop. I spoke to a friend of mine that is a cop in nearby Baltimore and he shared with me his thoughts and the fact that all of the evidence clearly points to a domestic issue and not a random act of violence.  Why would Aguilar travel all the way up to Howard County some 20 miles when he could have found several skate shops within minutes of his home?  One theory is that he was in some way attracted to Benlolo and had met her before.  Was Johnson just in the wrong place?  Did he try to stop the shooter and was in the line of the buck shots or was he maybe dating Benlolo and Aguilar was jealous?  We may never know the answers but one thing very clear is three people are dead and that could have been avoided.
Aguilar's mother reported him missing about two hours after the shooting on Saturday, according to Prince George's County Police Department. This is where things start to sound fishy, although Aguilar had no criminal record, according to Howard County Police. When police arrived at Aguilar's home to file the missing person's report, they found his journal which made an investigator "concerned for the missing person's safety." McMahon later said that Aguilar "does express some general unhappiness with his life." I would start interviewing the mother and any others close to him. Why did his mom not speak up before?(NBCNews.com)
Aguilar purchased his 12-gauge Mossberg shotgun legally in December. Maryland State law says that a person over the age of 18 can purchase and possess a rifle or shotgun without a permit, according to the National Rifle Association. Federal law stipulates that a gun buyer must pass a background check before completing the purchase.  This story is the first in a several part series about gun control, accountability and "It takes the village to raise the child."
[subscribe2]