Let's Be Honest About Dating It Sucks
About Dating Today
Let's Be Honest About Dating It Sucks
Let's be honest about dating, no matter how old you are it sucks.  The truth about dating is that it doesn't discriminate, its never racist and it has no prejudice, in fact it hates everyone equally. Over the years I have learned a thing or two about dating, and hopefully by the end you will too. There is no manual entitled, About Dating 101, Your Perfect Match, heck even Apple doesn't have an app for the iPhone to scan potential suitors; yet.  My point is the only people who can give advice about dating are the ones who have watched it, done it or ran away from it.  Want to know everything there is to know about dating?  Alright let's start.  Look in the mirror.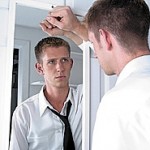 Looking? Great.  Who would you be all about dating?  What characteristics do you look for in a potential mate? Whether you're a guy or a girl, physical attracts for the first date and personality ensures there are more after it.  If you want to know the secrets about dating than you have to be honest with yourself, I am not saying look into the mirror and pick out your flaws.
Personally I have never really been good about dating; in fact I tend to be quite awkward around nice men who would be perfect for me, why?  Because I have insecurities and relatively low self esteem.  Quite outgoing, with more than a 1,000 Facebook friends, if you asked me my feelings about dating I would say I tuck my tail and run for the hills or simply just ignore a guy's pass.  Bringing me to my next point about dating, realize what your insecurities are and write them down, acknowledge them and embrace them.  Ok so I might not have the perfect model body, credit score or college degree, however I am a great friend who is guaranteed to make you laugh, outgoing, open-minded and I snowboard.  There are men out there who are all about dating a girl like me, with the flaws and all, the thing is realizing that just like I would take the good with the bad, so would a potential dude that I would date.
Dating in this day and age is hard.  It used to be people would meet, they would know what they wanted when they saw it and that was it. Now with the Internet, speed dating, ads in newspapers and of course more bars and clubs than nice restaurants to go and eat.  Hollywood makes tons of movies about dating, not like the classic old romance features like Casablanca or Meet Me in Saint Louis.  But hey I believe about dating that it is possible to have the fairytale, as most of my single girl friends do too.  But this is the thing about dating fairytale style; the princess usually marries the prince, not his father the king.  And how many times did you see the Prince going for the mom of his future bride? Yep I am not about dating daddies, even if they come with sugar.
What is it with women my age being all about dating an older guy or guys my age being all about dating an older woman?  Life experiences people, completely different!  Think about it, the guy who is 45 asking me out on a date, that's 20 years. You might be all about dating me because I am young, fun and give you a glimpse of getting back to that area of time in your life but really, when you were 25 I was 5.  Gross.
In the era of the Internet, online sites such as EHarmony and Match.com are making it easy for people to find exactly what they are looking for when it comes to dating.  On the other hand though there are sites out there specially made for men or women find another person whose all about dating outside of their marriage, aka carrying on an affair.  Taking a look at the top 100 dating sites, I didn't even know there was a site about dating SugarDaddies?! Let alone it being ranked in the top 20 sites out there for dating!?  Among the top 20 sites there are 4-5 that solicit casual hookups, international affairs and everything that craps on the very meaning of marriage.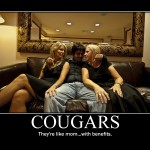 Some guys say they are all about dating cougars, but in reality they are not.  However thanks to shows like the "Real Housewives", "Cougar Town" and mom's like Dina Lohan and Kris Jenner, many younger guys are all about dating older women.  Look at Demi Moore and Ashton Kutcher.  Already the victim of the Hollywood high profile divorce, it is beyond me how Demi decided to go from Bruce Willis to underwear model Kutcher and than turn around and have friends say "well Demi was insecure of her age." Well duh!!!  Do you think dating someone 20 years younger actually makes you younger? NO!
I work on the Gayle King Show during the day, and Gayle bought up an interesting point a few weeks ago about the future of marriage.  Is the practice of marriage dead and gone?  No its just is getting harder to enjoy.  At the age of 25 it's hard to be about dating anyone in this economy, let alone envision a wedding.  I believe in marriage, however I don't know if my bank account will ever be able to afford it.  Besides guys my age are still living at home with their parents, going out and partying and doing anything but thinking about dating, let alone wedlock.
That's another thing that sucks about dating.  Both men and women my age who are actually looking to settle down tend to meet partners who are not ready.  Therefore they decide to go older, thinking that with age comes stability.  I am all about dating someone stable, but what age difference is appropriate?  10 years? 20 years? 30 years?  Hugh Hefner is all about dating younger women and he has no problem doing it, however there is a reason the Playboy Bunny House is off limits to most.  Why not just stick to your own age range when it comes to dating? Look at Demi Moore and Ashton Kutcher.  Demi was insecure because of her age, she did everything to compensate for it, but still never felt enough of herself to trust the marriage. I get for some its fate, but for most, its just lust.
Another thing about dating is that people base way too much importance on their status on Facebook rather than the actual foundation they are building outside of the web.  It's funny because in the old days, dating was all about finding the person you could spend the rest of your life with and raise a family.  Now it's about settling. On my Facebook page, a few ladies weighed in on what the truth about dating was too them.  For 23-year-old Danielle Altebrando, the truth about dating lies in the ability to be yourself and never feeling like you have to settle.  For others it was to be able to trust the person you are with is in the relationship for the same reasons.  Listen when it comes to dating, everyone is going to look, its human nature.  It's the person you go home too at the end of the night that matters.
Dating is something that you should want to do in order to get to know someone more. Once you get to know someone more and you begin to date exclusively, always remember the person you originally were attracted too.  Recognize the little things, walk a mile in their shoes, realize what they struggle with, what is hard for them, what is easier for them.  Compromise.
Let's be honest about dating, it's hard, it's awkward and although it is extremely easy to meet people, it seems impossible to carry on an intelligent conversation.  For more about dating get out to your local spot, a place that you genuinely enjoy, therefore running the possibility of meeting other people who share similar interests.
Jersey Shore About Dating Younger