Remembering Where We Came From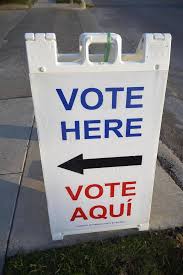 I was reading the paper this morning and several of the articles were about last nights "Super Tuesday" results.  I noticed that the polling signs included a Spanish version for all of our citizens that are given the right and privilege to vote on our next Commandeer In Chief but do not speak our language.  I looked up requirements for becoming a U.S. citizen from: http://www.nolo.com/legal-encyclopedia/tests-you-will-need-pass-become-us-citizen.html
Preparing for the English Exam
You will need to show that you can speak and read in English. You will need to demonstrate your English skills at your citizenship interview. The USCIS officer who interviews you will of course address you in English, and observe how well you respond to questions and instructions. The officer will also ask you to read a short passage, and to write a sentence that he or she says aloud (dictates) to you.
I just find this preposterous that as a society, we have deviated from the values, moral and ethics that our founding fathers fought and/or died for.  When did we elect to leave our history behind and to adopt a new set of freedoms and values?
When I worked down in Rosarito Beach, on the Baja Coast of Mexico, the first thing I engaged in after getting settled in, was to learn the language.  That proved not only valuable to learn and communicate, but it showed the locals that I was eager to participate in their culture!  They welcomed me even more after that which made my whole experience that much better.
I just don't get coming here to make a better life and/or earn money, but not fully engage in that culture?  Until we revert back to our original founding principles, we will become the Unites States of Diversity.