Seth MacFarlane Can Sing About My Boobs Anytime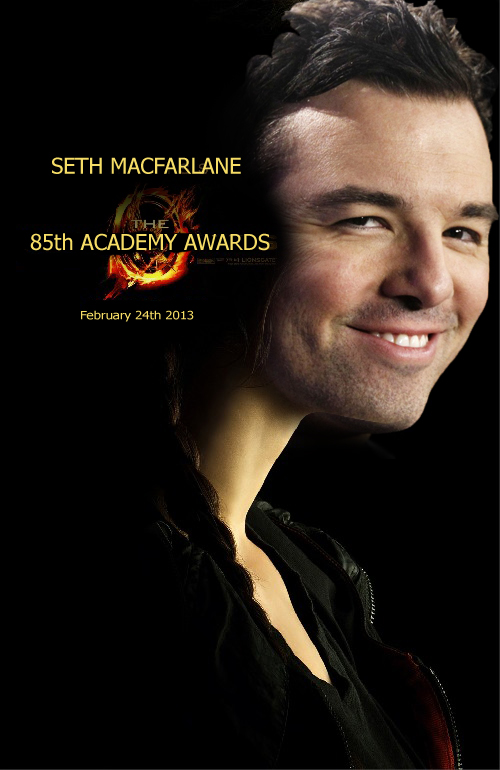 Seth MacFarlane Haters Milking the Boobs Song
2013 Oscar Host Seth MacFarlane can sing about my knockers anytime. In fact I wish he would because  let's be honest if there is one thing that can be said about Seth MacFarlane on a universal note, the man can friggin sing!  Listen I knew he was the writer of Family guy, but I really had no idea what Seth MacFarlane even looked like before last Sunday night.   I just thought funny man Seth MacFarlane hosting the Oscars, well it would either be epic fail or an all time monumental hosting right?  Wrong.  Hosting the Academy Awards is like throwing yourself into the Hollywood Hunger Games.
Why exactly was Seth MacFarlane top of the list to host the 2013 Academy Awards?  Well the Oscar Enterprise was trying to raise the numbers of viewers between the ages of 18-34.  Have you people ever watched any of his stuff?  Why do you think people my age want to watch him? He's real, he is not untouchable and he makes fun of the decaying dinosaurs that plague our population. Whoops.
Listen there was a few people who really just don't know what they were talking about when they released their blogs/articles regarding their Oscar Host review on Seth MacFarlane.  Unfortunately some individuals like Amy Davidson (New Yorker) or Senator Hannah-Beth Jackson and Assemblywoman Bonnie Lowentha (who sent letters to the Academy Awards President regarding Seth MacFarlane's song about boobs being "misogynist" or feminist for hatred of women) used so many big words from the dictionary that he must have been bad.
Slate.com had a writer trash Seth MacFarlane, saying that actresses like Charlize Theron gave him the evil eye.  Well just putting this out there… Usually when you see actresses wearing a completely different colored/cut dress than the one they had on during their red carpet walk, it probably means it was a pre-taped segment, which also means that Charlize Theron would have known about it and agreed to it.  But what do I know right?  To that writer I hope you one day read this and know that this is how I feel about you:
Ignorance may be bliss but it is also something that people should be tested for so they are unable to share their dumbass opinions with the world.
Reviews, letters and criticism towards MacFarlane make those of us who found him real and entertaining ask, did these Seth MacFarlane haters watch the show?  I mean why would he have a gay men's choir sing the chorus for a song that is meant to be "misogynist"? After all the NY Daily News had a good point, maybe MacFarlane was taking a jab at the memo that women shouldn't expose themselves at the Grammys.  Hmmmm? Maybe he was just making fun of men saying that the only reason they watch the movies is to see a woman's boobs.  Even gay guys love boobs.  I am a woman, Seth MacFarlane isn't a sexist or a racist. Like my mom would say, he hates everyone equally.
According to the New York Times Seth MacFarlane raised ratings along with hackles for the 2013 Academy Awards.
"But the ratings were good, and almost nothing counts for more where the Oscar enterprise is concerned. The show drew an average audience of 40.3 million viewers, up about 3 percent from 39.3 million viewers last year, according to the Nielsen ratings service. The audience among those between the ages of 18 and 34 grew 20 percent, to post an 11.3 rating, compared to 9.4 last year, when Billy Crystal was the host.
Oscar shows tends to rise and fall in the ratings based on the proven box-office appeal of several best picture nominees; this was a good year, with six of the nine films taking in more than $100 million. Mr. MacFarlane, who is known mostly as a TV producer but passed for a musical variety star as host of Sunday's ceremony, will also be credited as a drawing power." 
A few radio jockeys were arguing over whether or not Seth MacFarlane was an "enjoyable" host to watch.   One enjoyed him, another hated, and the last one made a great point.  The Oscars are just too damn long in general for any man, woman or child (has there ever been a child?) to successfully host the show.  Also it was said that most people tune into the Oscars for the movies themselves, not the host.  Let me just say right now… I watched because I work in news and I wanted to know what everyone was talking about Monday morning, but I also stayed awake because I found Seth MacFarlene to be easy to watch.  Picking up the phone about 5 minutes into the show, I informed my boyfriend that I may need to use my "Celebrity Crush" coupon (get one celebrity for a night without it being cheating) on Seth MacFarlene rather than Jeremy Renner.  But after seeing them both on stage at once, perhaps I could do a two for one deal?  Yeah!
To me and many of my 18-34 year old female friends on Facebook, Seth MacFarlane is one visually appealing piece of tail.  Combine that with a witty sense of humor and in your face honesty?  God really did make a perfect man even if it was for only 3 hours and 35 minutes.
Why I watched?  Along with a 20% increase in the 18-34 year old audience.  Well let's see.  I agreed with every MacFarlane said, knowing he was right.  He was going to ridiculed and criticized regardless, 150 years later and the getting inside Lincoln's head joke he cracked caused everyone to fall silent, the supposed jab at Latinos:
"Well we have finally reached the point in the ceremony where either Javier Bardem, Penelope Cruz or Salma Hayek comes on stage and we have no idea what they're saying but we don't care because they're so attractive.
Have you ever stopped to look at it the 2013 Oscars from Seth MacFarlane's point of view? Sure he is a successful writer, some would even argue genius and in my book I would rather have a conversation with MacFarlane over the New Yorker's senior editor, Harvard graduate Amy Davidson. (Who I will not even credit her work because it is ridiculous and if she got off her feminist stool for a minute would realize he was there to entertain not be a politically correct hemorrhoid kissing the ass of every actor.) Believe it or not Seth MacFarlane was not acknowledged for his writing skills, or success of his 2012 movie Ted being the highest grossing R-Rated comedy of all time. No just like the Hunger Games, he was good enough to go into the arena and battle, but Seth MacFarlane, Jennifer Lawrence could have told you, never make fun of the Capitol big wigs, they will try and destroy you.
Great job Seth MacFarlane and you have earned both my respect and admiration.

Related articles