Texting While Driving A Dangerous Resource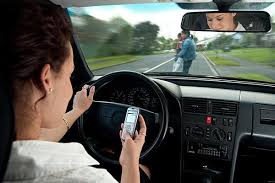 Texting While Driving
Texting while driving is the act of composing, sending, reading text messages, email, or making other similar use of the web on a mobile phone while operating a motor vehicle.  (Wikipedia) As I watched a news segment about the dangers of texting while driving, I couldn't help but look over at my family and pray that we are never involved on either side of this new danger we now see on the roads. Was that chat or info really that important?
I watched a statistic come on my screen that said 1-5 people between the ages of 18-60 text while driving.  While 1-3 for 18-34 year olds are texting while driving. That's scary because that pretty much covers the majority of drivers on the road. On average 18 teenagers are killed everyday due to the distraction of texting while driving.
 On January 3, 2020 Heather Leigh Hurd was killed by a truck driver who allegedly was texting while driving. Her father Russell Hurd has been actively supporting a law in various U.S. states called Heather's Law that would prohibit texting while driving across the board.
It seems that people are getting the picture with drinking and driving or at least the penalty for drinking and driving was soo stiff, that it wasn't worth the trouble.  Either way it worked. As for texting and driving, there are laws, jail and even lawsuits being implemented and it's a matter of time before these penalties hit home.
Washington was the first state to pass a texting while driving ban in 2007. As of now, 39 states, D.C., Puerto Rico, Guam and the U.S. Virgin Islands ban text messaging for all drivers. All but 3 have primary enforcement.  An additional 6 states prohibit text messaging by novice drivers.  3 states restrict school bus drivers from texting while driving.  Most states have fines from $20-$1000 and loss of license, points on their license, jail or even prison time.
If you think the laws and penalties like Punitive Damages being implemented for this new type of Distractive Driving is severe, wait until you are slapped with a "Wrongful Death" lawsuit.  That's right.  You can be sued by the driver or the driver's family for major bucks!  If you're a minor driving, your parents will be liable for your debt! Civil damages are usually monetary awards due to a winning plaintiff by a losing defendant in a court of law. Civil damages can be general, punitive or special, or any combination of these.
There seems to be a new responsibility on the part of both the sender and the receiver of the text message not to continue this kind of negligent driving.  Dallas trial lawyer Todd Clement said "It seems to make sense that both people involved in the activity could very well be liable including the sender who is not actually behind the wheel.  As this case goes forward, I think what you're going to see is a new awareness throughout the country." So now, all parties involved in texting could be held accountable.  That's great.
The bottom line here is that nothing is more important than driving safe when you're on the roads. Texting while driving; not safe.  If you have to send a message or need to read one, just pull over safely!  It's that simple when it comes to the issue of texting while driving.  Drive first, text later, when you are at home, safe in your chair, sitting.
State Laws regarding Cell Phone Use and Texting while driving: http://www.ghsa.org/html/stateinfo/laws/cellphone_laws.html
Another site worth looking into for updates and news regarding texting and driving:
http://itcanwait.com/
Texting While Driving