World Cup 2014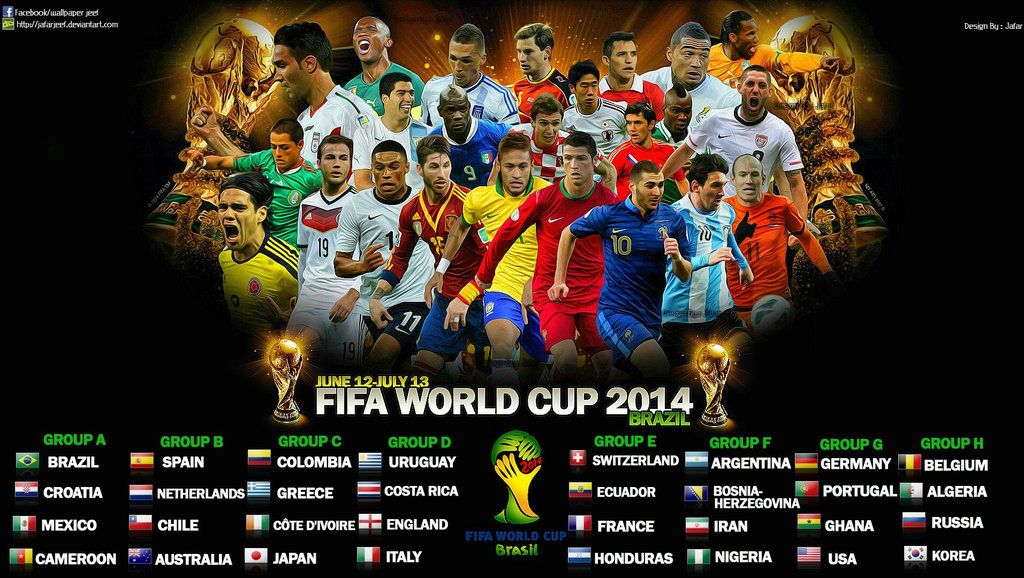 I can't believe it's already been four years since our last World Cup.  In one month, June 12th at 4:00pm, the world will cast their eyes to Brazil as host team Brazil faces off against Croatia in Sao Paulo for the 2014 World Cup.  Brazil will host the tournament in several cities with Rio de Janeiro and Brasilia offering the largest stadiums in the tournament.
Rio's Maracana-Estadio Jornalista Mario Filho has a capacity of 76, 935 and Brasilia's Estádio Nacional Mané Garrincha seats 70,042.  The smallest venue is in Natal at Arena das Dunas and holds a mere 42, 086.
The grouping Is as follows:
Group A- Brazil, Croatia, Mexico and Cameroon
Group B- Spain, Netherlands, Chile and Australia
Group C- Columbia, Greece, Cote D'ivoire and Japan
Group D- Uruguay, Costa Rica, England and Italy
Group E- Switzerland, Ecuador, France and Honduras
Group F- Argentina, Bosnia and Herzegovina, Iran and Nigeria
Group G- Germany, Portugal, Ghana and the United States
Group H- Belgium, Algeria, Russia and the Korea Republic
Brazil is the favorite to win the cup at 3.1 followed by Argentina and Germany at 5.1.  Spain came in at 6.1 with the United States at 125.1. (odds by Sky Bet)
More to come as we get closer to the games.