7-year-old Driver Arrested & Charged in PJ's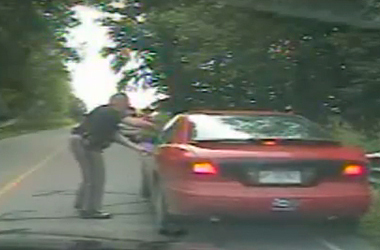 Defensive driving is an essential practice on the road these days even for a 7-year-old driver. The list of reasons to drive with caution is endless, from road hazards to inclement weather. There are bad drivers, drunk drivers, new drivers, and old drivers… but a 7-year-old driver?
It's true! They aren't hitting the roads in droves, but one young driver managed to cause quite the commotion in Caseville, Michigan when he took his stepfather's red Pontiac out for a whirl, without permission.  Before anyone could stop him the 7-year-old driver took off in the car and drove for approximately 20 miles before being stopped by local officials.
The Associated Press reported, "The boy told authorities that he drove off in his stepfather's car to see his father, who lives in Huron County, 110 miles north of Detroit. The boy reached speeds of at least 50 mph before police caught up with him. He stopped the car on a rural road where the speed limit was 55."
Police received a tipoff call about the 7-year-old driver from another driver around 10:15 am.  During the 911 call he exclaimed, "He's flying down that road!" The concerned citizen attempted to get the child to pull over. When that failed, he conveyed the location of the 7-year-old driver to the dispatch officer.
Police tracked down the car and pursued the boy. The boy swerved and Police Chief Jamie Learman stated he "feared the boy would crash." Nevertheless, the 7 year-old driver persisted in his quest to see his father. In fact, Learman reported, "When that happened, he seemed to be increasing his speed."
Learman sped ahead in an attempt to box the boy in with another police vehicle. Eventually the 7-year-old driver vigilante slowed the vehicle to a stop with police assistance and the chase concluded.
When the 7-year-old driver emerged from the car he was in his pajamas, barefoot, and bursting with tears. Learman revealed, "He was crying and just kept saying he wanted to go to his dad's." The officers were taken aback by the child's young age.
Learman expressed, "I can just imagine the stop signs and other things he didn't stop for. I'm just assuming a 7-year-old didn't follow the traffic laws. I'm just glad he didn't get hurt, and no one else got hurt."
The 7-year-old driver was charged with unlawful use of a vehicle.
Tim Rutkowski, Huron County Prosecutor questioned, "What is it in this child's life that's stressing him that he leaves in a vehicle? There's something going on in his life. What we don't want is to let this happen again." Rutkowski claimed juvenile charges were filed only to get the boy and his family assistance such as counseling. He assured the antics of the 7 year-old driver would not get him removed from his home in Michigan.