Anthony Weiner Resigns Breaking News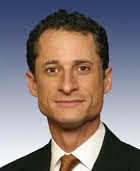 Rep. Anthony Weiner is stepping down according to the New York Times who was first with the breaking news this morning.  The Associated Press followed in close pursuit, confirming Weiner's departure from Congress.  
Scheduled to announce his resignation at a press conference later today, Anthony Weiner finally succumbed to the pressures of his fellow Congressmen.  Media all over the globe speculated that Weiner awaited the return of his wife, HumaAbedin, from a trip with Secretary of State, Hillary Cilinton, to discuss a proper course of action. 
Despite the support of the majority of his constituents in New York's 9th congressional district, Anthony Weiner did not stand a chance against the party leaders in Congress began to threaten to remove him from various committees while also vocally appealing to him to step down.    
Perhaps the amount of photos became more than the votes he has accumulated after his run in Congress, because as of today, June 16th, Anthony Weiner is facing the inevitable and stepping down. 
At 46 years old Anthony Weiner has accumulated quite the reputation as a star Congressman within the liberal wing and even a potential candidate for the upcoming race for Mayor of New York.  Looking at his 14 year run in Congress, why he initiated this entire sexting scandal seems to go beyond normal human comprehension.  
Last July after marrying Ms. Abedin, Hillary Clinton's most trusted aide, Anthony Weiner was even considered an honorary member of the Clinton family.  However what Bill Clinton did does not even compare to the drag pictures, crotch shots and bare chested photos of Weiner staining the media currently.  
Anthony Weiner called House Leaders last night at a White House picnic with his intent to resign today, according to the breaking news from ABC.  Members of the Democratic party such as Minority Leader Nancy Pelosi, Democratic Party chairwoman Rep. Debbie Wasserman Schultz and even President BarackObama have driven home the concern that this sexting scandal of Weiner's has caused quite the distraction and resignation was obvious. 
House Speaker John Boehner and New York Governor Andrew Cuomo await Anthony Weiner's formal letter of resignation.