"Banned For Life"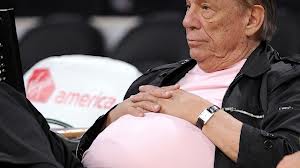 New York-
"Banned for life" was the decision imposed on L.A. Clippers Owner Donald Sterling after making racists comments to his girlfriend V. Stiviano.  The issue was raised as recorded tapes of his conversation to V. Stiviano began to surface causing a league investigation and a decision made earlier today.
Sterling is immediately barred from attending any NBA games or practices, being present at any Clippers office or facility, or participate in any business or player personnel decisions involving the team.  He will also be fined $2.5 million which will be donated to organizations dedicated to anti-discrimination and tolerance policies.   NBA Commissioner Adam Silver also will try to force Sterling to sell his franchise. A decision that will proceed with 75% of the other owners in agreement.  "I fully expect to get the support I need from the other NBA owners I need to remove him," Silver said.
In the past, he's faced extensive federal charges of civil rights violations and racial discrimination in his business dealings.  He has also been sued in the past for sexual harassment by former employees.  What a shame.  I praise the NBA for a swift and deserving outcome to this terrible person.