College Rankings Don't believe the hype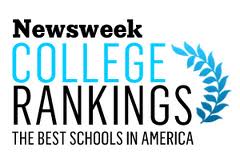 We've all seen the famous lists of college rankings that U.S. News puts out every year and for the masses of prospective students shopping around for their ideal institution, U.S. News has become the Consumer Reports of education. People put so much faith into these lists that it puts pressure on deans to keep their college rankings high so that alumni and administrators don't freak out.
An article in The Washington Post tells us that deans feel that these lists define the pecking order of their schools and this poses many problems.
People like to think that these college rankings are scientific documents—but they are not. What they do, however, is sell magazines.
The man behind the college rankings, Bob Morse, has likely had his share of meetings with deans to discuss why they got a certain score. One can only wonder if deans have tried to throw money or other incentives at this man so that their school might come up a few pegs. For many of these schools, politics play a big factor, after all.
John Garvey, former dean of Boston College Law, and Morse had "a very pleasant and useful conversation," Garvey said. The dean humbly suggested Morse might consider using a three-year average of employment rates to soften the impact of a single down year. Evidently, Morse did not concur; the current survey methodology page suggests the publication still bases its college rankings on one year's data.
"I'm sure I was just one in a long line of deans who queued up to talk to him about why they weren't doing as well as they thought they should in the college rankings," Garvey said. "Deans worry about it, because prospective students attach way too much significance to minor differences in the college rankings."
There is talk across academia of college administrators playing to the rankings: investing in improvements designed to raise an institution's rank. That's more easily done in a small professional school, where it is theoretically possible to create big gains simply by engineering each year's entering class. One easy way is to admit fewer students, favoring those with the highest test scores and grades. A business school dean who does that can improve the numbers across several categories: GPA, GMAT score, acceptance rate and, indirectly, graduation and employment rate.
Who knew that schools weren't necessarily trying to achieve a competitive class for the sake of keeping their programs of high scholarly value, but rather they want to gain a higher score in the college rankings!
For all we know, there are administrators who get a pay raise if their ranking increases over a certain period of time. This is likely news that nobody would want to be made public, of course.
So the next time you or someone you know is looking at programs for undergrad or even graduate school, keep in mind that the rankings shouldn't be as much as a factor as people make them out to be. When in doubt, investigate schools the old fashioned way by talking to students and faculty, admissions staff, and visiting the department.
It may seem silly to disregard a school because of their ranking on a list, but, unfortunately, it probably happens all the time, and that makes deans across the country a group of very nervous people.
Related articles